June 29, 2011
You sell ball head nails, but I want the screw. Do I have to buy a 70-204 just to get the screw?
June 30, 2011
OK...so I have to buy the 70-204. That being said, is the ball profile the same as the nail version? The nail has a channel for the loop latch to fit in, but I can't see very well from the picture that the screw is the same.
July 1, 2011
Darn...that's what I thought. I'm attaching an image of what I'm looking for. Any ideas where I might locate this? Thanks in advance Mike.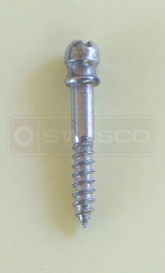 July 8, 2011
Hi Mike...No, I need a screw. I'm not using these as they're intended. It happens that the ball fits nicely in the accessory track of a Sunsetter awning. I'm building a water mister rod to fit in the track, and nailing into the PVC tube isn't really an option. Thanks for your input. I will have to get a little more creative now.