Monarch mirror bi pass doors
Wheel diameter 1.5"
Bracket 1.75" wide x .5" thick
Overall length top of bracket to bottom of wheel 3"
If not the bracket with wheel maybe just the nylon wheel with metal ball bearing hub.
These doors are 30 x 78 and weighs 52lbs. There are 4 door with 2 wheels on each. I would replace all 8 wheel if possible.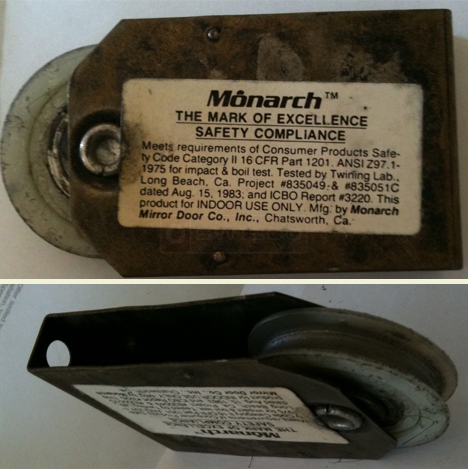 Monarch™
THE MARK OF EXCELLENCE SAFETY COMPLIANCE
Meets requirements of Consumer Products Safety Code Category II 16 CFR Part 1201. ANSI Z97.11975 for impact & boil test. Tested by Twining Lab., Long Beach, Ca. Project #835049 & #835051C dated Aug. 15, 1983 and ICBO Report #3220. This product for INDOOR USE ONLY. Mfg by
Monarch Mirror Door Co., Inc.,
Chatsworth, Ca.