Pan Am Jalousie Operators
A handy person from Melbourne, Florida says:
April 2, 2016
As I read on one of your posts, the crank moves the window out but when operation is reversed, all that happens is the crank ejects itself (unscrews?) from it's holder.
All my windows are from the 1960's and in very good condition. They each have a plate that reads "Pan Am". I have included the numbers I see on the inside: 2LH 18-0821 2.
I would love to replace two Left Handers.
Thanks,
Frank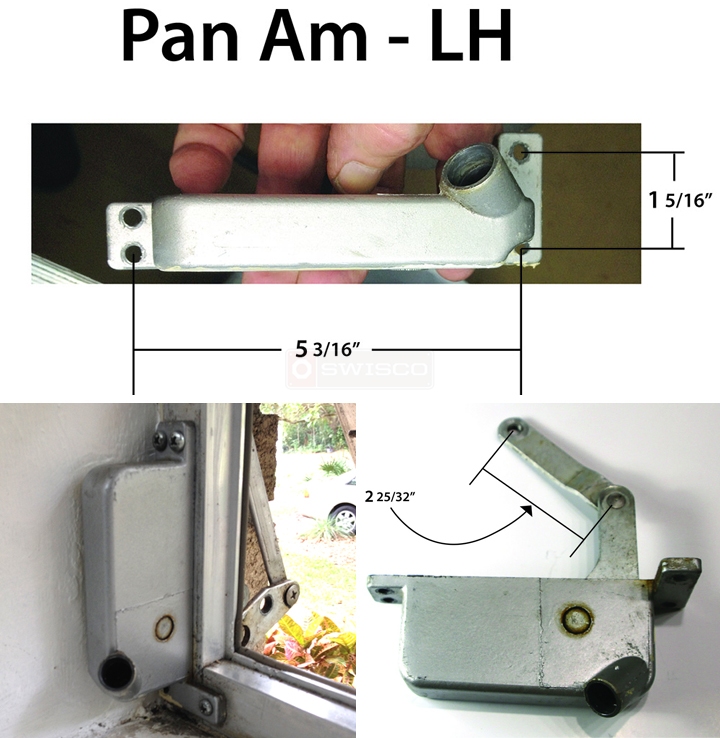 Dave from SWISCO responded:

April 6, 2016
A handy person from Melbourne, FL says:
April 6, 2016
Dave,

I am overjoyed with you response showing what promises to be the replacement parts we need.

I am eager to make a purchase from you but have one reservation:

Concerning Pan Am/Daryl Window Crank
Product Code: 39-016:

The extendable arm shows to be 2 3/8" in your graphic. My measurement is exactly 2 25/32" which is close to 2 3/4", a significant difference. Is this significant? Or won't it make any difference?

So pleased with your assistance, and your company in general. Very happy I found you.

Thank You,
Frank
Dave from SWISCO responded:

April 7, 2016

Thank you! I'm glad we can be of help. I don't believe the link arm length will be a problem. There is a certain amount of travel in the gearing that should make up the difference in length.