Replacing keyed door hardware on a sliding glass patio door
A landlord from Baton Rouge says:
August 6, 2012
I am looking to replace the locking portions, or maybe the entire handle/lock, for this door handle. I do not know the manufacturer of the door (or the hardware), which is 1" thick. The door was installed in 2006, but the company that installed the door is clueless about replacing the hardware (which they also installed). I have the measurements of the distance between the screws, but need to know which parts I need, a brand, and where is the best place to purchase these parts locally. I am also open to ordering them online, if I am sure they are the correct parts for my door.
I believe that the thumblatch might have some broken internal parts, and also although the key latch fits into the keeper, the door can still be moved, but not opened, when locked.
interior handle screw centers: 4 15/16"
mortise lock (fits inside doorframe)screw centers: 4 14/16"
exterior handle with lock: depth = 1", height = 4 3/8"
door thickness: 1"
Thanks for any information you can suggest.
Jo Ann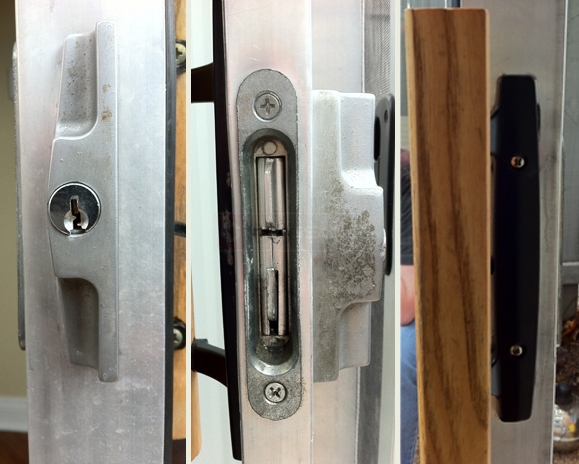 Dave from SWISCO responded:

August 7, 2012

Thanks for posting! It sounds like it could be the inside mortise lock that's giving you trouble. I recommend that you look at either our

82-211

or

82-214

. If you want to just change the key cylinder, you can take a look at our

82-310

.

I also recommend that you recheck your hole centers and door thickness. The handle set looks like our

82-035

, but the screw hole centers are 3-15/16" apart, and for doors that are 1-5/8" thick.
A landlord from Baton Rouge says:
August 7, 2012
Thank you, Dave, I appreciate the recommendations. I will double check the measurements. Since I personally have not removed the interior handle, it is possible that there are other screw holes in the door that are hidden by this handle. Then I will better know which direction to go in. You are very helpful. Thanks so much!!
Dave from SWISCO responded:

August 8, 2012

Of course, I'm more than happy to help! Please let us know if you have any other questions.
A landlord from Baton Rouge says:
August 8, 2012
Hello Dave,

You were correct! This time I used a paper ruler, instead of a retractable tape measure and these are the relevant measurements:

Interior handle screw centers = 3 15/16"
Mortise Lock = 3 3/4" screw centers

This door is used as a primary entrance door, so it gets more use than a front door entrance.

Thanks, Dave!! Let me know if this new info affects your recommendations.


Dave from SWISCO responded:

August 9, 2012

So far, it's only reinforcing them! What did you get for your door thickness, though?
A landlord from Baton Rouge says:
August 9, 2012
Great!! That makes it easy.

If anything, the door thickness might be 1 1/16". I did re-measure, but the edges of the door are rounded, so I can't precisely find edge to edge. Will the handle set that fits doors 1 5/8" thick work with doors that are 1" - 1 5/8" thick? Thanks so very much, Dave.
Tom from SWISCO responded:

August 10, 2012

The

82-035

can only work for doors that are 1-5/8" thick. I do not think it will work for a door that's any skinnier. That said, it looks

so similar

to your handle that I think it bears remeasuring, just in case. You might want to try removing the handles from the door and measuring the door through the hole. That might give you a more accurate thickness.