hope'w window operator
A quick learner from fort lauderdale, fl says:
April 22, 2012
I have a home built in the late 1930s with Hope's window operators on steel casement windows. Several are not working and disassembly indicates the arm gear is worn down to to lack of lubrication and window sticking. Is it possible to replace the arms? Is it possible to buy replacement operators? I have looked through your website and do not see a similar operator. Note the mounting screws are in a vertical plane. I will attatch photo of my operator for your review. Thanks in advancel.
scottt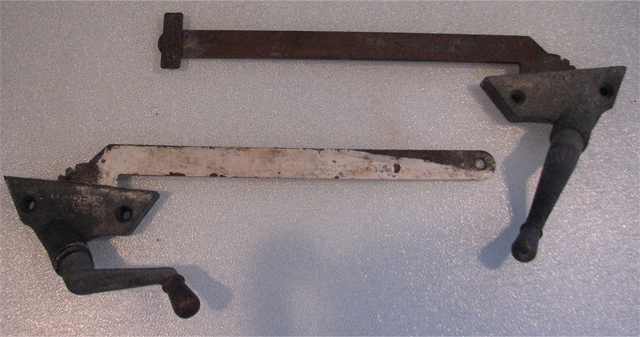 Dave from SWISCO responded:

April 24, 2012
A quick learner from fort lauderdale, fl says:
April 24, 2012
Close in design but wont work. Note distance between mounting holes is 3.5" on your
39-020
part. The distance on the original Hopes part I have is 2 3/8". Since the mounting base is integral with the window frame, that can not be modified. I have found one of mine replaced with a Hopes operator with the number 5896 cast into the bottom. Please look again and see if something might be available to replace these. Thanks in advance.
Scott Main
Dave from SWISCO responded:

April 27, 2012

Unfortunately, we have no other operators that may work for you. Are you sure you can't drill new holes?
A handy person from Connecticut says:
September 25, 2013
Hello,
I have several casement window crank operators that are stripped. The handles are fine. The stripped part is the distal (fine) end of the 2-inch screw gear. It's worn down so much that it won't catch the teeth of the arm gear. Is there any know replacement for this 2-inch screw gear? I don't mind taking the things apart. In fact I'd rather do that than replace the operators with new ones. Any thoughts?.
Tom from SWISCO responded:

September 30, 2013

I have placed you into an existing discussion regarding these operators. Check out the responses above to see what we suggest.