Coil Balances
Also known as constant force balances, Coil Balances are spring mechanisms that regulate the operation of a window. They are distinguished from other balances by being part of assemblies that may consist of separate coil springs, pivot shoes, and other accessories. The coil springs are individually calibrated, and together they support the weight of the window.
video:
How to Replace a Window Coil Balance
A step-by-step guide on how to replace a window coil balance.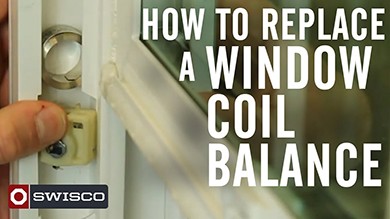 guide:
Removing a Triple Coil Window Balance
Follow along this step-by-step tutorial to learn how to replace coil balances.
FAQs
Coil Balances
How do I know which coil balance parts to purchase?
Identifying a coil balance assembly can be an involved process. We highly recommend removing the entire balance assembly from the window, especially the pivot shoe, and submit pictures to our experts for a recommendation. In many cases the identity of the pivot shoe will determine the identity of the coil balances needed.
How do I know what weight option to choose for my coil balance?
A code should be visible on the band of the spring, usually near the tongue. For coil balances that are sold as entire assemblies, this stamp can be found on the cartridge that contains the springs. If the stamp is missing, too faded to read or you are uncertain of its meaning, then we recommend you weigh your sash on a scale. Provide that exact sash weight to our experts, and they will be able to make a recommendation.
What do I do if the balance hardware is missing?
Your first step should be to check an identical window elsewhere in the house that still has all its hardware intact. If in doubt, contact our experts for further guidance.
Do you sell my coil balance as a complete assembly, with everything included?
While some coil balance systems come as complete assemblies, most require that their individual components be purchased separately.
I like the design of one balance assembly over the one I have now. Can I use that instead?
We strongly advise sticking with the same assembly your window currently uses to avoid potential complications. However, in some cases your exact balance assembly may no longer be available. In such instances you may be able to use a different system as a substitute. Contact our experts for assistance.
Will the coil balance assembly on the right side of the window be the same as on the left side of the window?
Yes. With few exceptions the left and right-handed coil balance assemblies are typically symmetrical; i.e. identical in every way.
I have a pivot shoe where the coil springs are fastened to the sides. Does it matter which side of the shoe I screw the coil spring?
Generally, it does not matter which side of the shoe you use to secure your spring. When in doubt, install the new parts with the same orientation as the originals.
My pivot shoe isn't damaged. Can I reuse it?
The majority of coil balance systems require that their individual components be replaced separately as needed. Therefore, in most cases any components of your balance assembly that are undamaged can be safely reused. However, it's important to note that after a spring fails it can sometimes cause strain on the other parts, so it may be wise to replace the related hardware.
How do I remove my balance assembly from the track?
Most window manufacturers provide a cutout in the track that allows for the removal of coil balance assemblies. If you cannot find such a cutout then you can contact our experts for their recommendation.
Can I use stronger springs to make my window open more easily?
We highly advise replacing your springs with ones that have the exact same weight rating. Stronger springs would actually make the window harder to close, not easier to open. However, note that in some instances you may end up using a different number of coil balances than you had before, depending on the availability of the spring weights needed. Contact our experts for guidance.
Submit photos of your hardware and consult directly with our staff of hardware experts. Whether you're trying to identify unknown parts, need help installing parts that you just purchased, or just looking for some handy tips, our experts are there to assist you.