Awning Window
A home owner from Florida says:
May 25, 2011
The house was built in 1958 and these are original. There is a center handle and two hexagonal rods turn in either direction (attached to an extruded aluminum flat bar which is attached to the plates that move the window frames). It is kind of like a drive shaft (the handle) and the axles (the hex rods that go to the uprights) with the assembly as the differential.
The underneath part of the handle says "Part # 40-818-1. I am sure this is the handle part number, but I need the whole assembly, as it seems it is stripped. The rod had fallen out and my mother tried to open the window. The windows are aluminum, as is the handle and housing, so I am assuming that the mechanism is also aluminum. I do know that the builder used superior grade materials (at that time)in building this house.
Any assistance would be greatly appreciated.
Thank you,
Karen
Sorry for the poor quality of photos.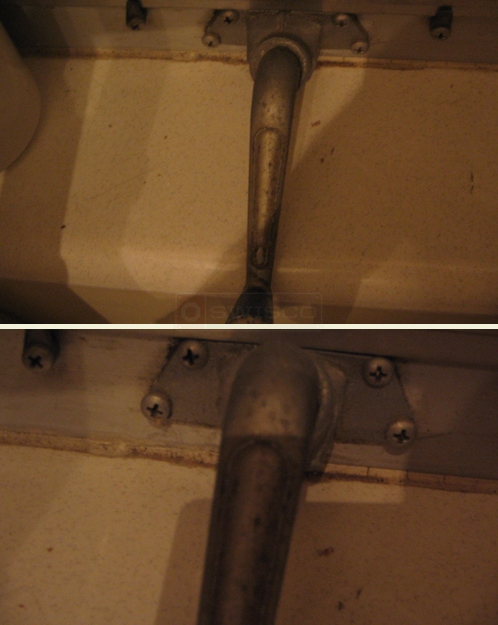 Donna from SWISCO responded:

May 25, 2011

Hi Karen,
We do have the Stanley gear box but the related items, the angle adapter and handle, are discontinued and no longer available. I'm sorry I do not have another source or substitute for you.
A quick learner says:
May 25, 2011
Thank you. I guess that I can use the original handle and angle adapter, right?

Can you give me a price on 13 gear box?

Thank you,
Karen
Dave Sr. from SWISCO responded:

May 26, 2011

Karen, take the complete operator out of the window, and see if you have a center gear operator comparable to the Swisco

39-076 Gear Operator

. I believe what you are showing us is only the angle adapter, which attaches to the

39-076

. However, I am not certain without seeing the complete operator removed from the window.