Broken Window Pulley for Vinyl Double Pane
A handy person from Mount Laurel, NJ says:
March 20, 2013
I've attached photos of a broken window pulley that needs to be replaced. The pulley broke in two pieces and was attached to a spring that is found on under an aluminum channel on the side of the window. The pulley appears to be gray nylon with a white nylon double roller inside.
This is from an original white vinyl double pane window that was installed when the house was built new in 1999. I do not know what brand the window are as there are no markings or stamps that I can find.
I need to order two of these pulleys. We are putting the house up for sale and need to make repair as quickly as possible.
Thanks, Mark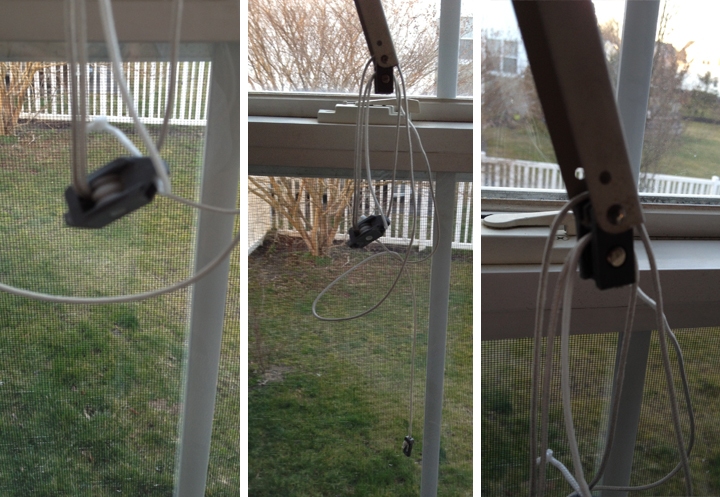 Tom from SWISCO responded:

March 20, 2013

Hey, Mark, thanks for posting. Unfortunately, these pulleys cannot be replaced. You will have to replace the entire channel balance.

I'd be happy to help you find which balance you need, but I'll need more information. If at all possible, could I see some pictures of an undamaged balance, perhaps the other one in that same window? I'd like to see pictures of either end of the metal channel, as well as the hook found at the end of the string. I will also need to know the channel length and any numbers that are printed on it. Let me know!
A quick learner from Mt. Laurel, NJ says:
June 10, 2013
Tom:
Sorry it took me a while to respond back, but thanks for your direction. I finally pulled out the track and here's what I got:
Length of Channel: 35"
Length of Sprint: 18"
Track Location: Left side of window, facing window from inside house
Secured by a single wood screw at to of track.
I've attached photos of broken track I removed, closeups of pulley/hook and photos of bottom of good track mechanism.
Hopefully this will be enough for you to order this for me. I am selling this house and closing on 6/28, so I need to this part as soon as possible.
There are absolutely no numbers printed on the channel or any of the parts. I can't find any brand marked on the window.
To clarify: Spring is 18" long, Channel is 35" end to end.
Mark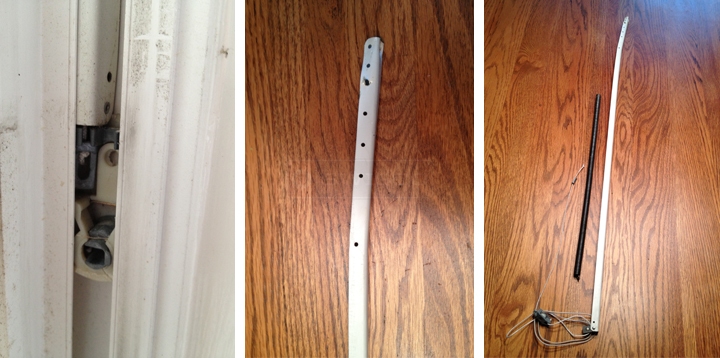 Paul from SWISCO responded:

June 11, 2013