Broken Window Tilt Latch
A home owner from Yardley, PA 19067 says:
May 23, 2016
Good Evening,
I very much hope you will be able to help me locate a replacement tilt latch for my Corning window manufactured in 1999, as I do not see anything similar to it among your online inventory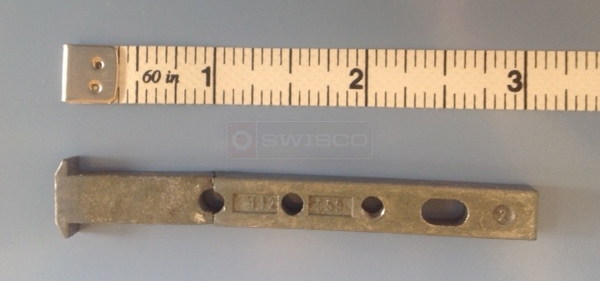 Tom from SWISCO responded:

May 25, 2016

Have you seen our

26-272

? This looks pretty close. Carefully compare the dimensions we list to your own measurements to confirm.
A home owner from Yardley, PA 19067 says:
May 25, 2016
Dear Tom,
You are absolutely right about exactly WHAT I need -- despite my having earlier categorized it as something else, by name, I mean.

I would like to order at least one of those, since I clearly need it! (My photo, btw, distorted the alignment of the measurements; it is indeed 3 inches long, and all other other markings seem to correspond to mine...

IF I order 3 of them, will that increase my S&H charges? (My rational being analogous to taking an umbrella w me, to minimize the chances of my actually needing said umbrella, despite the forecast... I.e., chances are fairly high that I will pay greater attention to how I support my 'tilted window' when I clean same in the future...

The bigger question at this point is whether something ELSE may have gone askew when I recently 'broke' that PIVOT Bar. In which case you will likely hear back from me in the not-so-distant future -- after I have ordered and received its 'replacement(s)!!!
Thanks again, in advance, for your most helpful & speedy reply. (While I await whether additional S&H charges may be applied were I to order more than one...)

Again, MANY thanks for your quickly recognizing my having mis-named the part I need
Tom from SWISCO responded:

May 26, 2016

Great! I'm glad that was it. Shipping and handling will vary depending on what type of shipping method you choose; we have a few options. That said, I don't think ordering three of these will alter it that much since they're pretty small. The forecast looks sunny.

The damage I see on your pivot bar can be caused by a few different things. The first and most obvious is just age and time taking its toll. However, another and more insidious possibility is due to the way tilt windows are designed. You see, when you tilt a window in to clean it or replace hardware, you must first raise it a few inches. If you tilt a window in without raising it, it will cause strain on the pivot bar and shoe and will damage one or the other, or even the sash itself. This isn't common knowledge unfortunately and not a lot of installers let home owners know about this ahead of time. Hopefully this helps you in the future!