Capitol Windows and Doors Coil Balance Spring ID?
A handy person from Collegeville, PA says:
June 24, 2014
Hi Folks-
Just spoke to one of your helpful service reps. about how to ID the correct replacement springs for my windows, and she suggested I post here to get some feedback. I have two different size windows where the springs have crimped in the tracks. They both are dual-coil on each side of sash, with rounded ends that match image of the S190 series shown on site. However, I can find no stamped numbers on the pieces I removed from windows. The coil width is 1/2".
Both windows are double glass I believe, and I removed and weighed one (approximately) at 15 pounds. Used your estimating guide as back-up for this one, and for 23.5" x 31" sash, double strength, it gave 16 pounds... so 16 it is. The other window sash, which I did not remove, is 27" x 23.5", which gives about 14 pounds.
My conclusion from this is that I need
S190-440
coils for both of these windows... is this correct? Your site recommends "Replacing both window balances at the same time ..."... does this mean you recommend replacing all 4 in each sash if only 1 has broken?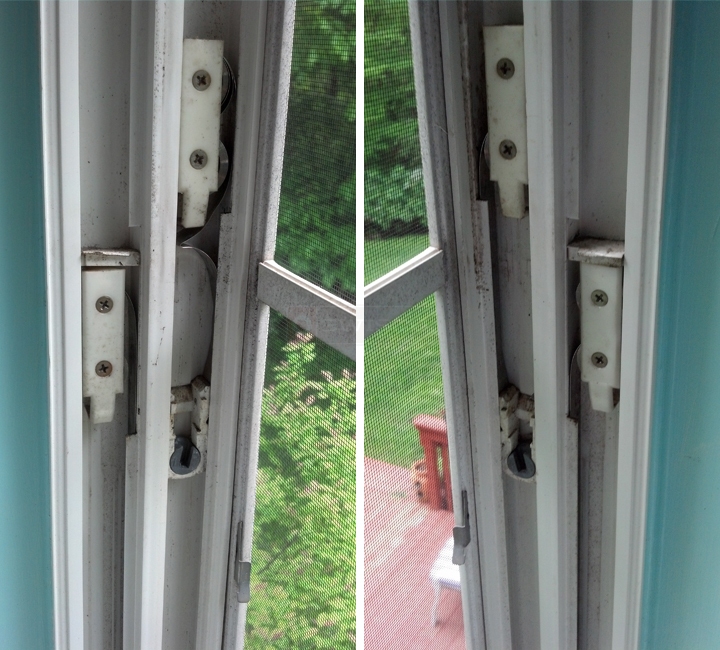 Paul from SWISCO responded:

June 25, 2014

You are correct, I think it's best to use

S190-440

for both windows. In regards to replacing both sides with a new balance system, we find that after a period of time the other springs start to break or the sash starts to move unevenly. We suggest replacing both sides so that you don't have to go through this process again in just a short period of time. You can put both new springs in one sash and move the old springs to the other window, or perhaps just keep them on hand as an emergency backup.
A handy person from Collegeville, PA says:
June 25, 2014
Thanks Paul! Will go with 4 now as you suggest.