Casement Window Operator C-1040-5B
A handy person from Denver Colorado says:
January 29, 2015
We recently bought a house in Denver Colorado and one of the casement windows is missing the entire operator mechanism. The window is one of a side by side pair and it's mate has the operator so the pictures below are of that operator. The two windows swing opposite directions so I need the opposite of whatever is pictured If the pictured operator is Right-Hand (I think) -- then the replacement part I need the is Left-Hand version, in Almond color. If not, then vice versa.
There is one part number stamped on the underside of the operator -- C-1040-5B. Another part number is stamped on the underside of the outermost split arm -- A with a double underscore followed by F-1040-12.
I've tried to represent the measurements in the pictures, but some were difficult to capture. Here's what I came up with:
Total width excluding cover: 4 1/2 "
Body Height without cover and excluding crank housing protrusion: 5/8 "
There are 11 holes for mounting to the sill interior, width between the most exterior holes, measured center to center: 2 13/16"
Center to center between the holes for mounting to the face of the window frame: 3 1/8"
Total arm extension: 8 5/8"
Longer arm (one attached to window): 5"
I couldn't measure the shorter arm very well since where the bend was left a lot of room for error. When positioned at a 90 degree angle it measured 4 1/8".
If I buy a replacement operator, does it come with the cover, the crank handle and the attachment clip?
Thanks so much for your time and help.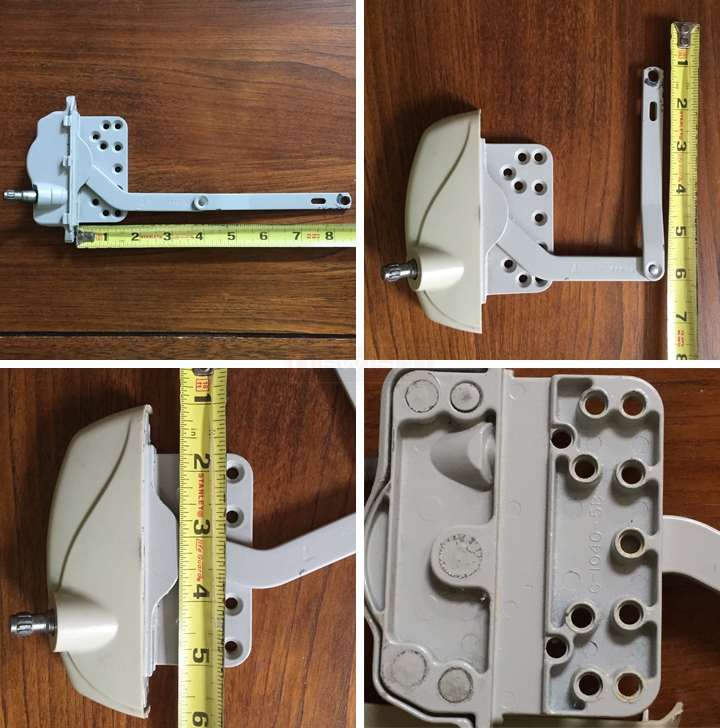 Dave Sr. from SWISCO responded:

January 30, 2015
A handy person from Denver Colorado says:
January 30, 2015
Thanks so much for your response. I think that this will be our best option. We're facing some minor modifications though. Would it be possible to get some additional measurements from you to be certain this will work? Also I need clarification on a few follow-up questions.
1. What is the length from the back of the housing to the end of the linkage arms when fully extended (as pictured in the top left picture above)?
2. What are the dimensions of the plate used to screw the operator to the sill. My existing one is 3 3/8" x 2 5/8". Too much more than 2 5/8" and it will interfere with the window closing.
3. The only two available colors are white and clay? I really need almond or beige. (I'm prepared to spray paint the housing cover if absolutely necessary.)
4. My existing installation uses Stud Bracket
39-508
with a metal clip to attach the linkage arm to the underside of the window. I need the metal clip. Is it included with the operator? If not, can I buy one from you?
Thank you!
Dave Sr. from SWISCO responded:

February 3, 2015

The full length, extended like you show in your photo, is 8-7/8" long. The dimensions of the mounting plate are 3-3/4" wide and 1-1/8" in depth. We do not carry it in almond, but you can paint over it. If you have the

39-508

stud bracket you will need to purchase the

39-105

clip to install on the link arm. I hope this information helps.
A handy person from Denver Colorado says:
February 3, 2015
Thanks so much! Looks like I'll be able to move forward with this project. I'll be ordering my replacement parts soon. I really appreciate your time. You've been a great help.
Dave Sr. from SWISCO responded:

February 4, 2015

It was my pleasure!
A handy person from Denver Colorado says:
February 14, 2015
I've very excited to finally have my parts in hand. But I need to spray paint the white cover. I tried a few things to get the cover off but I'm afraid of breaking something at this point. Does the cover come off of the operator? If so, what's the how-to and/or trick to accomplish that? Or will I need to do a spectacular job of taping to spray paint the cover in place? Not looking forward to option 2.

Best regards and thanks for your continued help.
Tom from SWISCO responded:

February 16, 2015

Hey, good to hear from you again. Unfortunately, these covers are not meant to be removed. You would have to try to spray paint with it still attached. Sorry for the bad news!