Channel Balance Install Trouble
A quick learner from Mill Creek Washington says:
July 20, 2016
Hi, I ordered 2 channel balances (Item #
S385-17
, option 1630). They are almost identical to the broken ones in the window, numbers are correct. So, install was easy, but as soon as I close the window completely, the hooks pop out of the slots in the window frame with a twang. I checked to be sure I have the hooks in the proper slots; they are. 3 tries with the same result. Can you help me figure out what I am doing wrong? The channel balances seem a little loose in the window channel. Is it possible that I have the wrong part? It sure looks right. I believe that the windows are Milgard, non tilt.
Thanks
Tom from SWISCO responded:

July 21, 2016

I'm not sure what the problem could be. You mention that the old balances are almost identical. In what way were they different? Could you show me pictures of the old balance? I would specifically need to see the top and bottom nylon attachments, the metal clip, and the stamp.
A quick learner from Mill Creek Washington says:
July 21, 2016
Hi Tom, Thanks so much for your quick reply. Here are pictures of the old channel balance (on the right) and the new parts from SWISCO. The differences seem to be the length of the plastic tabs at the bottom and a difference in the top of the balance that nestles under the clip in the window frame. Again, install is easy until I press the clips back in and move the window up and down. Then, with a twang, the clips come out of the holes that they were hooked into. Thanks again for your help!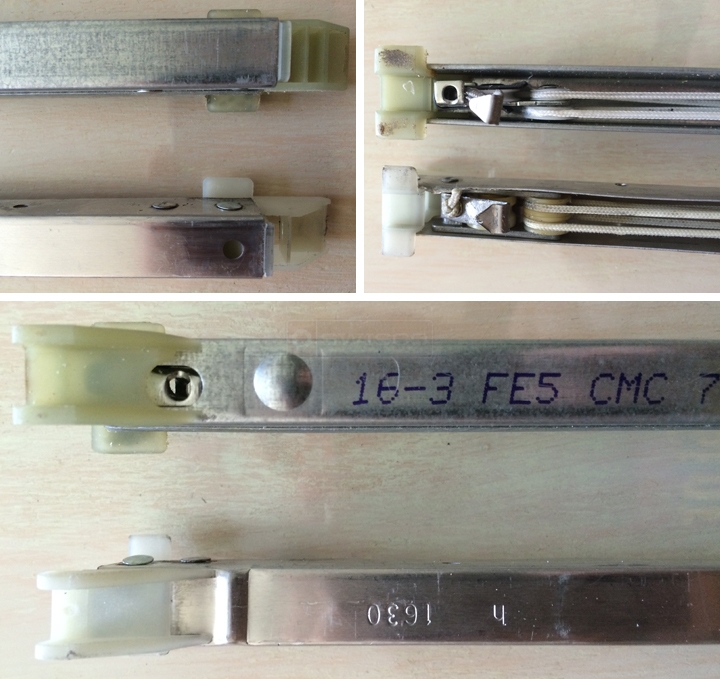 Paul from SWISCO responded:

July 28, 2016

This is puzzling. The spring strength of the old and new balances match. It should be perfect for sashes weighing 12 through 14 pounds. The hooks at the end of the cord on each balance looks almost identical. I'm wondering if the top sash guide might be damaged. Another thought: are there two holes punched in at the side of the window track? If so, try the other hole with the balance hook.