Channel Balancer
A quick learner from Longport NJ says:
July 10, 2017
Repairman skipped town with the four balance rs from our 40 Yr old townhouse in Longport NJ. Original Builder grade Double Hung are side by side 36 wide by 30" high top and bottom sash. Windows are 1/2 Inch insulated glass and in very goog condition considering their age. Like to figure out the correct length since I think I can identify the correct plastic parts that were all broken. I think the original manufacture by Kinkston or Kingley? I can measure the space between the attach points on the frames. Recollect they may have been between 16 to 18" Long and since such heavy sash 1/2" width. Are there the same channel balancers in the top sash? I would purchase pair of each you think might work

John

Paul from SWISCO responded:

July 13, 2017

Without the originals on hand, it would be very hard to determine what you need. I would check to see if there is an identical window in the house that may still use the same hardware that you can use as a reference.
A quick learner from Longport NJ says:
July 13, 2017
Thank you Paul

I will do more research this weekend and get back to you

JUohn
A quick learner from Longport NJ says:
July 16, 2017
Windows by Acorn per original builder memory. Side by side 36"W x 72' high non tilt. Picture shows a brown plastic (genius design) remnant broken retainer clip in left side channel about 3" from top frame cross member. The original balancers top clip secured here (Slot shows in picture of right side channel) and apparently secured at bottom of channel frame slotted channel frame guide about 1" up from bottom frame cross member. Hope this is sufficient info to get me what I need to get all back to normal operation. Thanks
John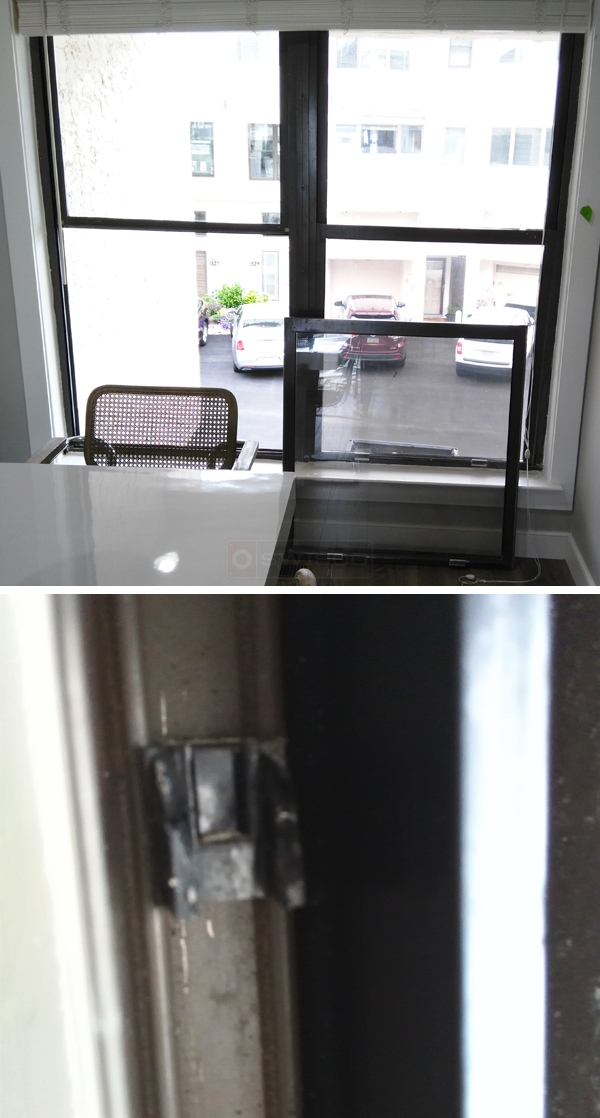 Paul from SWISCO responded:

July 19, 2017

I'm afraid I don't recognize that brown plastic piece. I'm not sure what it could be. To confirm if you have an Acorn side load balance, see if your top sash guide looks like our

18-041

. If not, remove yours and send a photo of it to us. We would also need dimensions. Finally, give us the width and height of the visible glass for this sash.
A quick learner from Longport NJ says:
July 20, 2017
Acorn 3500 non tilt with additional information.
Confirmed the top connector broken piece is remnant of 19-009 and visible glass is 33" high X 31" wide. Side Channel top slot to bottom connection is 32.5" and appears the 15-003 winged connector will work best. I would like to try two of the suggested replacement balancers with 19-009 top and 15-003 bottom, plus the 15-004 spares with pins just in case.
Paul from SWISCO responded:

July 24, 2017

Thank you for the additional information. The Acorn Series 3500 window balance will be our

S710-35

with a spring weight option of 3440, for a sash weight range between 23-30 lbs.
A quick learner from Longport NJ says:
July 24, 2017
Hi Paul
After checking out your comments have confirmed the brown plastic remnant found in the channel slot up top is a
19-009
. Checking other answer postings feel confident the 28"
Series 385
balance 2740 or 50 is my correct type. Only issue is the weight which is definitely in the range I selected. The bottom connector on this unit is
15-004
winged style that will attach to the bottom cut out of the side channel rails. Top connector
19-009
and winged bottom plus visible glass height of 32.5". I would like to order two with whatever additional components you suggest will get me back in operation, The windows were always hernia creators even when new. Will be needing screens if the plan works.
A quick learner from Longport NJ says:
July 24, 2017
Paul

Thanks for quick response. Please check out the max visible glass height is 32.5 and 35" channel will not fit. I originally told you the windows were 36 X 36 but actually in 33' h by 32" wide range. I do believe the channel should be 28" to allow top clip to insert in the cut out up top and connect to bottom no more than 1" from bottom of the frame? What do you suggest?

John
Paul from SWISCO responded:

July 25, 2017

I'm sorry, I'm confused. You say that your balance has the

19-009

top, but you also say that the

Series 385

is a match for what you have. However,

Series 385

comes with a

19-005

top, not the

19-009

. Can you confirm? Is there any reason the

S710-35

that we recommended wouldn't work?

Can you also confirm the exact weight of the sash?
A quick learner from 08403 Longport NJ says:
July 25, 2017
Paul
Clarification - I do not have a balancer only broken brown remnant (picture above) that looks like Acorn
19-009
Leaning toward the 385 since the Top
19-005
appears it will be ok for clip into the slot same as
19-009
. The 28" length measure same as space between the top slot and channel indent at bottom to connect with the winged shoe
15-004
better than any of the S710 series. In your opinion will the
19-005
top cause problem since it looks very similar in function? I would like your best suggestion since I am willing to place order and continue quest for right combo. 710 top good, bottom connector needs wings since no other apertures in bottom channel to connect
Paul from SWISCO responded:

July 28, 2017

I don't advise going with the

19-005

top. The wings of the

19-005

isn't made to work with Acorn windows, which is what you have. It won't fit in the groove like the

19-009

will. The

Series 710

is specifically designed for Acorn windows. Now, without the original balances on hand to use as a reference, I cannot be 100% sure these will work, but I think they are the best option we have. I would specifically recommend the

S710-29

with a 2840 option.
A quick learner from Longport NJ says:
July 31, 2017
Thanks Paul.
Lets try the S710/19-009 top with 2840 Option. I will order two and add spare
15-004
winged bottoms since there is no other way the bottom can connect by my inspection of each window channel. Seems like logical place to start. Appreciate your patience and guidance.
John
Paul from SWISCO responded:

August 3, 2017

Thank you for your order! If you ever need anything else, let me know. I'd also like to hear if this hardware works out. If you run into any problems, I'm sure we can find a solution.