Channel Spring Balance and parts
A quick learner from Chatham Ontario Canada says:
November 6, 2013
I am looking for replacements channel spring balances or parts.
The Canadian installation company, Ducana Windows, has gone bankrupt and we are having trouble finding anyone who deals with the parts to repair the windows. I manage an office building with over 100 of these windows and am in desperate need of parts so we can get some of these windows operating. Owner can't afford to be replacing that many windows for the sake of a few parts.
I believe from your website that it is a
Series 350
channel. From my measurements and comparisons with your site, they have a
19-002
balance top and a
15-004
balance shoe. The Top sash guide is a
18-073
The windows vary in height and width and the channels are varying sizes including 24" 27" and 29".
The numbers stamped on the channels are all different and are not the same as you supply.
23 9
2690 7 29
2840 7
How do I tell the weights so I can order the correct sash weight?
Also, do you ship to Canada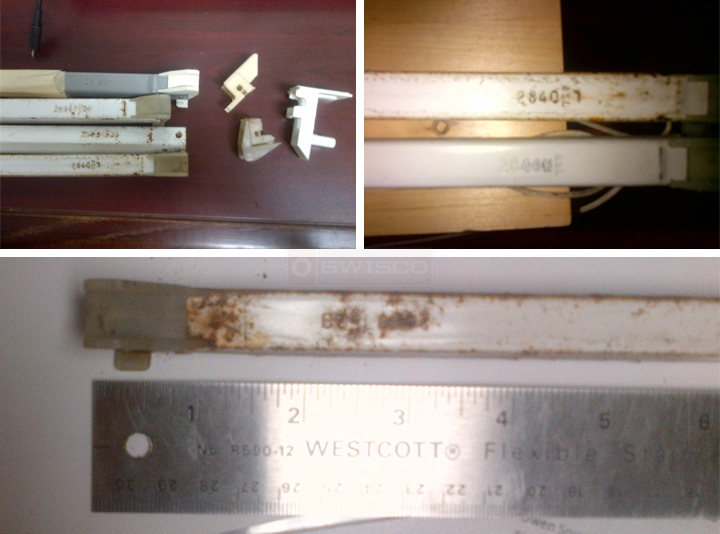 Paul from SWISCO responded:

November 9, 2013

Thanks for posting! I agree with your assessment, our

Series 350

balance and

18-073

shoe look pretty close. Just double check the dimensions to make sure they're the same.

I would also check the nylon attachments on each balance just to make sure they're all the same. Looking at your pictures, it seems like a few have bottom shoes that don't match the

15-004

, as they are missing the wings. However, it's hard to tell. If you have a lot of windows with a lot of different sized balances, then there may be a few oddballs in there. Just keep that in mind.

To determine sash weight, you simply have to remove the sash and place it on a scale. Any common bathroom scale should do. Check out the video below to see how we remove this kind of window sash.

We do ship to Canada. Check out our

Shipping Policy

for more information.
A quick learner from Chatham Ontario Canada says:
January 3, 2014
Ok, So I now have the weights for each sash. When I am searching for the proper spring balance weight, do I look for the spring balance that matches the total sash weight or 1/2 of the sash weight because there are 2 balances on each window?


Tom from SWISCO responded:

January 3, 2014

For these kind of balances, you look at the weights listed for each option assuming both balances will be carrying that weight. You do not split it in half.