Channel balance choice
A home owner from Sandpoint, ID says:
August 11, 2014
I need to replace a channel balance for a non-tilt window. I think I need either a
series 350
or series 385, but I don't know the difference between
19-002
top piece and
19-005
top piece.
The balance I need need to replace is marked 26 4 JR -- it is 1/2" wide and 27" long
A couple years ago I purchased a Swisco replacement channel balance for another window in my house (same brand window but smaller) and chose part
S385-15
. This channel balance works but the window is a little wobbly when sliding open & close, so I'm wondering if the
Series 350
would be a better choice.
Can you give me some advice on choosing between these two series?
Tom from SWISCO responded:

August 11, 2014

The difference between the

19-002

and

19-005

is that the latter has wings while the former does not. I'm not sure why the window is wobbly, especially since you bought the

Series 385

balance. Both nylon attachments for the

Series 385

have wings, which would prevent it from wobbling, if anything.

I think it would be best if you take a few pictures of your original balances, just so that we can avoid confusion. Please make sure that you clearly show us the nylon attachments on both ends. Thanks!
A home owner from Sandpoint ID says:
August 11, 2014
Here are some photos, I hope you can make out the detail in the end pieces. These have flanges.
Thanks for your help.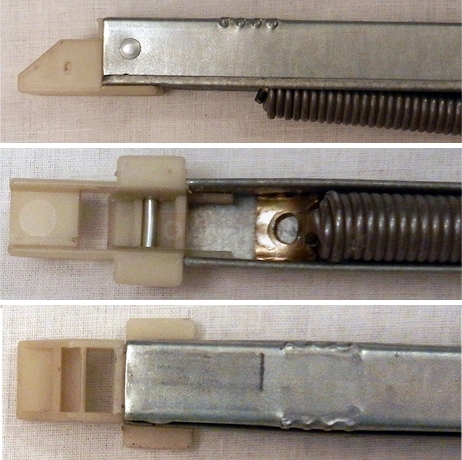 Tom from SWISCO responded:

August 12, 2014

Yep, that looks like the

19-005

alright. The only other thing I can think of is that maybe you have the incorrect shoe. The

Series 385

uses our

15-004

. Are you absolutely positive that's what you have? Do the dimensions match? If not, it may be the

15-005

instead. Does it have wings? If it doesn't have wings, either, then you may have either the

15-001

or

15-002

, which would mean you need a custom made balance. Let me know!
A home owner says:
August 12, 2014
Thanks for your reply. Yes, the shoe has flanges. The shoe measures 1-3/32 from the outer edge to the outer edge of the flange. Is that the correct way to measure?

If so, I think Model 385 is correct for my windows.

I appreciate your help.


Tom from SWISCO responded:

August 13, 2014

In that case, it sounds like the wobbling might be an issue with the window, not the balance. It's possible that the sash or frame is warped. This sometimes happens with old windows. You can try adjusting the jamb, if that's possible, but if the windows still operate well aside from a slight wobble then it may not be too big of an issue.