Channel balance from double hung window.
A home owner from Tacoma, WA says:
August 16, 2015
Channel Balance for Caldwell Window.

19 4 HK Caldwell is stamped on the side of the balance. Plastic clips are also missing.
Window measure 45 inches wide and 22.5 tall.
Do you have replacement balances and clips?
Is a screen made for this size window available?
Paul from SWISCO responded:

August 17, 2015

All I can determine based on this information is that the balance is 20" long and will use a 1940 option. If the plastic fittings are missing, I will not be able to identify what the Series is. Is there an identical window in the house that uses the same balances? If so, you can use those to identify the Series.

I'm afraid we do not sell screens. You would need to contact a local hardware store for further assistance.
A home owner from Tacoma, Wa says:
August 17, 2015
Thank you for your response. Unfortunately this is the only window of this type in our house. I will attach photos in hopes to provide more info for you. Both of these channels popped loose from the window and thought it might be wise to replace them especially since the 'clips' we have seen in a YouTube video were never in place since we bought this house. The clip must be what keeps the little hook in place. Is,that correct as I recall always seeing the hook and a bit of cord showing at the top of the window when closed. Is that correct?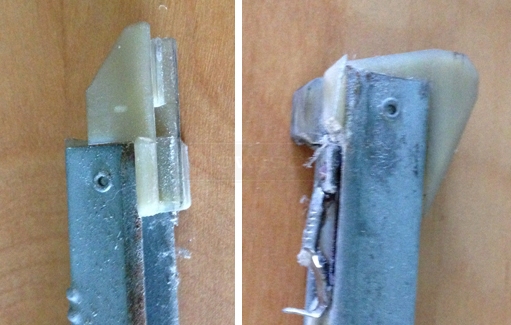 Tom from SWISCO responded:

August 18, 2015

Oh, I see. I thought you were referring to the fittings I see in your pictures here. I can identify the Series using these, yes. This looks like our

Series 385

channel balance, so check out our

S385-20

with a 1940 option.

I'm still not sure what clips are missing, though. I wonder if you mean the top sash guides. Check out the video below. Is this the problem you have? If so, there are so many top sash guides that could work and I am not sure what you need. I would again recommend you check for an identical window in your house to see if they might have the hardware you need.
A home owner from Tacoma,WA says:
August 19, 2015
I think we are making progress. The mystery of the, as I called them, plastic clips, must be the top sash guides. The video you attached makes me believe our's are missing. Have they broken off? I am attaching a couple photos to help you decern what we need. I will admit the window often after closing it needed to be moved abit to the right or left so I could fasten the lock. This leads me to believe these Top Sash Guides have been missing along.
Advise please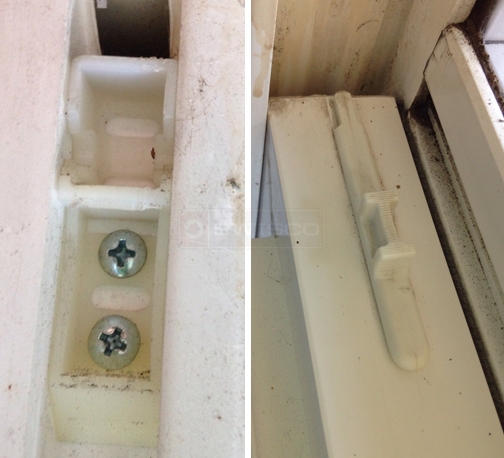 Tom from SWISCO responded:

August 20, 2015

This mystery is going deeper with every post! You have your top sash guides alright; that's it there in the left picture. That resembles our

18-008

, in fact. So the top sash guides aren't the problem.

At this point I'm assuming the infamous clip is related to, or part of, what I see in the right picture. If so, I'm at a loss as to what that is. I've never seen anything like it, actually. It sort of reminds me of a tilt latch, but that is usually only for tilt windows. You have a non-tilt window, so such a device would be unnecessary.

What exactly is its function? Are you sure its related to the balance having broken? Maybe try out the new balances and see if they work without it.
A home owner from Tacoma,WA says:
August 20, 2015
After watching this video, progress! We do not have 'take out clips'. That may be the reason the channel balance little hook popped out! Our channel balances clearly have stamped on them, Caldwell 19 4 HK. Sorry to have added confusion with the picture of an unknown part...the 'slide thing' that seems to serve no purpose. Let's eliminate that from our items in solving what is needed to get this window functioning again.

Do you have the TAKE OUT CLIPS and channel balances for our window? Since the picture I sent shows the top sash guides in place and from this video, very good by the way, believe, as I stated, the take out clips are needed. Plus, would like to replace the channel balances as they seems rather 'stiff'
Tom from SWISCO responded:

August 20, 2015

Ah, I see. The take out clip usually used with this balance is our

16-002

. Could that be what you need? In an emergency, you could also temporarily install a screw in the track.