Custom Size Channel Balance
A home owner from Washington, DC says:
October 16, 2016
Hi. I am trying to fix one of the windows next to my balcony door. It's apparently a custom size. The balance has the following stamped on it: (04/03) UNIQUE 55 E 32.25LBS. I measured the balance from end to end to be 56" and the spring mechanism from hook to hook is 29". The window weighs about 30 lbs. I tried to take pictures of the pieces that I have. I was hoping to get a new channel balance so that I could just pop it in; otherwise, I tried to take pictures of the pieces that I have and maybe I could buy pieces and rig it back together? This window is pretty standard in my building and there are probably about at least 50 units that have these windows (2 on each side of the door) if not more. Please advise.
Thank you,
Eunice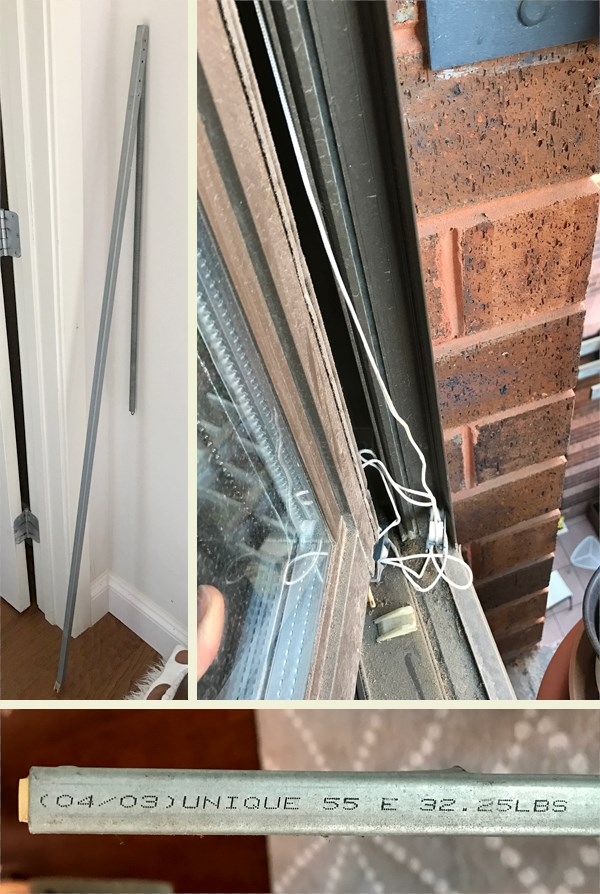 Tom from SWISCO responded:

October 19, 2016

Hey, Eunice. I think we might be able to help. This balance is extra long and will definitely have to be custom made. Before we can look into this any further, we will need to see clearer pictures of the nylon caps on either end of the balance. I can just make out their fragments, but they are too damaged to identify. Do you have an undamaged version of this balance we can look at? Once we can see those, we can determine what Series this is, and that's pretty much the last bit of info we need.
A home owner from Washington, DC says:
October 19, 2016
Here are some additional pictures. I only had a nylon cap intact on one of the channel balances and I don't know what the other end looks like. I have another window on the other side of the door, but I am afraid to take out those channel balances for fear of breaking those caps and/or not being to put it back together. Someone in my building said that all of the windows should use these caps: cl/Series-351-Channel-Balances (although he doesn't have balcony windows like I do). All of the windows appear to be made by the same manufacturer and have similar parts.
I have broken channel on another window and was going to order the 30"
SERIES 351
channel balance for that (it had the following code: (10/06) UNIQUE 29-D-40 2940). That measures 30" end to end, but the code makes me think that I should order 29". I think the same applied to the balcony window, which was off by an inch as well.
Let me know if this additional information helps.
Thanks,
Eunice
Tom from SWISCO responded:

October 21, 2016

Thanks, Eunice. I'm afraid your images didn't come through, so I can't say for sure. However, the Series 351 was one of the balances that came to mind when I saw your picture. There are others, which you can view here but it's encouraging and I think we're on the right track.

Now, concerning the length vs the stamp, I wouldn't worry about it. The stamp being one digit less than the length is standard practice. The logic behind that is a little convoluted so I won't go into it for now, but a 30" long balance with a 2940 stamp is totally normal.

I would look over the link I supplied above to see the different 1/2" wide balances we carry. If you think the Series 351 is the way to go, let me know and we can get started on getting a possible match for this extra large 56" long balance. I would also need to know how many you're looking for.
A home owner from Washington DC says:
November 2, 2016
Tom -
I think you were the one who responded to my questions on the discussion board regarding finding replacement channel balances for a special sized window (or I guess it could be some other Tom from Swisco). Anyway, I wanted to find out how much the channel balances would cost to order. I would need to order 2 30-inch channel balances and 2 56-inch channel balances, both in the
series 351
. I think I also need 4 top sash guides (Product Code
18-169
) and 4 take out clips (Product Code
16-002
) (unless these items come with the channel balances). Can you let me know how much everything will cost? If there is anything else that you think I may need, please feel free to suggest.
Thanks for all of your help.
Eunice
Tom from SWISCO responded:

November 7, 2016

Great! I'll email you a custom order link for two of these 56" long balances. This link will let you add the special balance to your cart as if it were any other item, allowing you to continue shopping as normal. You can then checkout with everything together in one order.