Electrolysis damage on sliding glass door?
A home owner from Cathedral City, California says:
July 22, 2016
I feel fortunate to have discovered your website when looking for information regarding some odd damage occurring to the aluminum piece my sliding glass patio door and screen door ride upon.
The piece (by which I mean the entire metal plate with rails on which the doors ride, and which wraps around from the top of the sill to the front of the 5" kick wall under the sliders) is getting holes which look like some kind of corrosion (an effluorescence similar to what you see building up on car battery terminals). It has eaten through several areas of the aluminum, including one area where it's completely eaten away the rail the screen door rides on (for which I will use one of your rail covers, once I can determine the cause of the damage). It also seems to be eating away whatever material is between the concrete foundation and the metal surface the doors ride on; you can stick your finger down about 3/4" into the holes in the aluminum.
One contractor who has looked at it guessed it might be caused by some kind of electrolysis. We live in the Southern California desert far from any ocean, but we do have a saltwater pool, though it is seldom used and water would very seldom if ever be splashed onto this area.
Does anyone with Swisco have any idea what might be causing this problem? Thanks for any input you may have! Shilo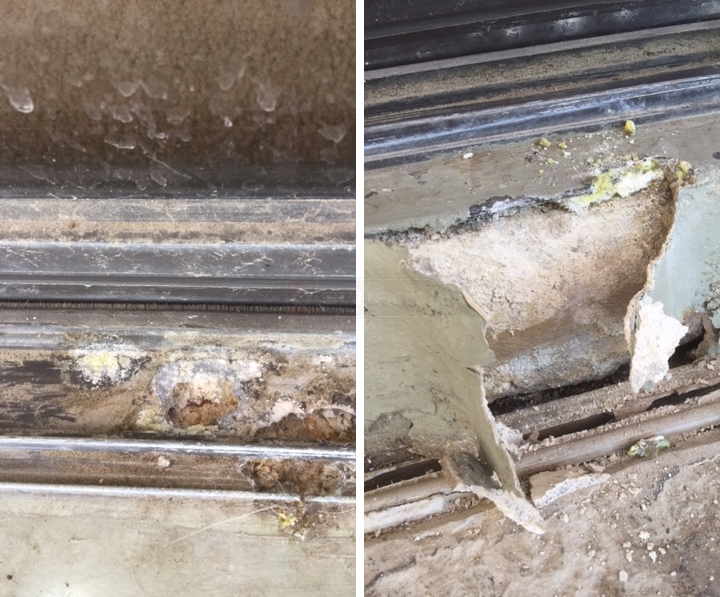 Dave Sr. from SWISCO responded:

July 27, 2016

Thanks for contacting us with this problem. I believe this is some sort of electrolysis, as your contractors suggests. While your salt water pool is a suspect, I don't think it's ultimately the culprit. I believe this can happen simply from having the aluminum track lay on top of concrete. There are actually chemicals in the concrete that can cause this kind of corrosion. It would be best if you could place some type of plastic or foam barrier between the bottom of the track and the concrete.
A home owner from Cathedral City, California (outside Palm Springs) says:
July 28, 2016
I hope this message finds its way to Dave from SWISCO, who responded to my earlier post regarding the mysterious damage to our aluminum patio door track/rail. I just want to thank him very much for his reply. Our home was built in 1981 and we bought it in 2013. The area where this damage is occurring was clearly patched by a prior owner, so the damage has been happening for a while, though the patch appears to have kept this chemical 'melting' hidden until the last year or so, when I began to notice the little 'blisters' in the stucco/paint, which have grown rapidly to become holes. Thanks, Dave, very much for your input, very much appreciated! Shilo