Finger Grinder
A home owner from Murrieta, CA says:
August 3, 2015
Hello
I just purchased a home with 15 casement windows which are opened & closed daily. The hole in the existing handle appears to be 3/8 inch. As you can see, the small area makes this a long process & usually leaves my blood behind. Also, my fingers aren't strong enough to open the window entirely.
I would prefer to remove all the existing cranks & just slip a long T handle crank around the spindle each time & then remove it to go to the next window. Is your Product Code:
39-357
the answer? Better would be a solid unit, 3-4 inches long. A T handle would be best, but if that's not available, a folding crank handle (on some windows it would hit the shutter so it couldn't turn 360) might work.
I would get a few to make the shipping expense worthwhile.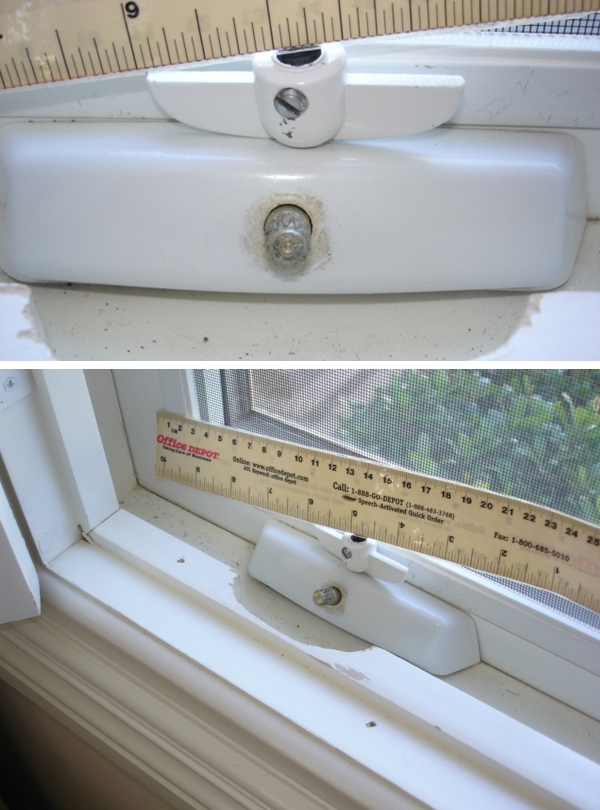 Dave Sr. from SWISCO responded:

August 5, 2015

Thanks for posting! Can you confirm the size of the hole, or "spline?" I believe it should be 11/32", not 3/8".

Start by looking at our

39-205

, which is our most common 11/32" folding crank handle. We also c arry the

39-157

4" long 11/32" spline extension. They don't make a solid T handle/extension combo. You could possibly use our

39-102

T handle, if you cannot reuse any of your old ones.
A home owner says:
August 6, 2015
Thanks for the reply.
Per info you have listed I looked under a control arm. Underneath it's engraved with a house, & "TRUTH". Does that give you the probable size?

I could reuse any of the existing 15 handles to turn an extension, but they're only 2-1/8" across. I would prefer something wider to get a better grip.
Tom from SWISCO responded:

August 6, 2015

Truth brand casement operator handles usually have a spline size of 11/32", but I recommend measuring yours just to confirm that this is the case.
A home owner says:
August 6, 2015
I've confirmed it's 11/32, so it seems that for my purpose is useing #
39-157
with a T handle.
1. Do you have a T that is wider then 2-1/8" & fits that extension.
2. Since I'll be moving this tool 15 times, is there a easier way then having to tighten & loosen the tiny set screw as I move between windows?
btw...your site makes it easy to ask questions & post pics. I'll be using you folks often.