I need new "KILIAN" rollers
A home owner from Westville, IN says:
June 28, 2013
These rollers are from Klein patio doors that are about 40 yrs old.
The wheel width that fit in the track (outer to outer) is 11/32" as best I can tell and the entire roller is about 1-3/4" diameter. I have 6 of these doors and many rollers are worn. The have both steel and nylon rollers. The nylon rollers are stamped KILIAN-Toronto-Syracuse. If you think I can replace the rollers themselves could you tell me how to get the axle out of the wheel?
I though maybe you'd have to drill them? I'd prefer the entire assembly but will work with what I have to. Thanks for any help you can give.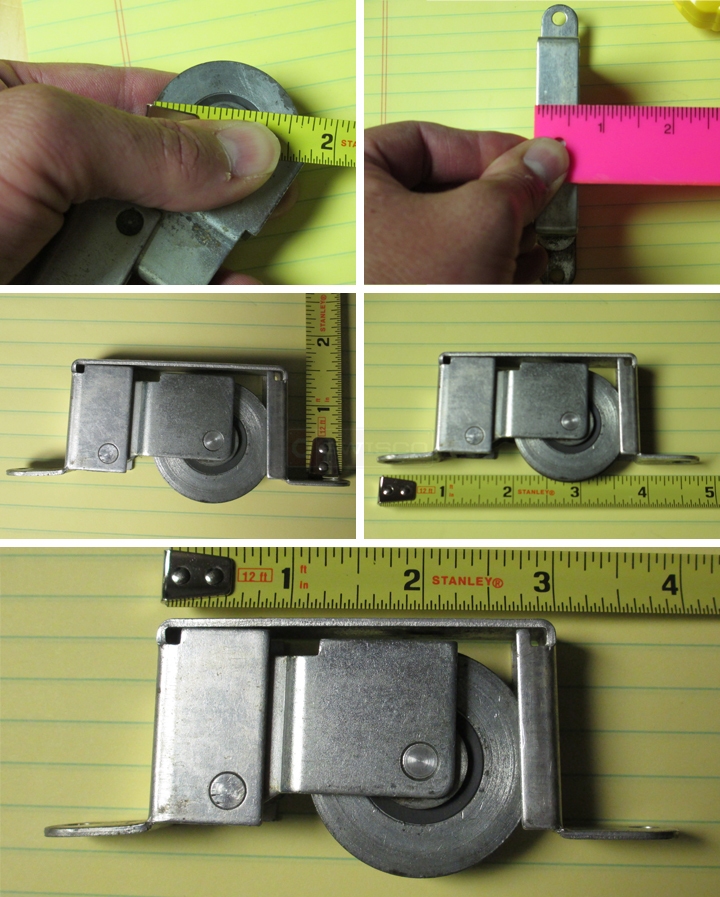 Dave Sr. from SWISCO responded:

July 2, 2013

Yeah, swapping out the wheel may be your best option. I don't think we have this roller. I've never seen anything like this before.

You would drill the axle out, yes. Check out our

81-272

roller and axle kit and see if this might have a good alternative.
A professional from California says:
July 2, 2013
I can't say for sure, I've never seen this roller either, but you should raise the possibility that the axle may just push out.
It looks very likely to me.
In a pinch I've used a 1/4" socket under the bottom and a punch to force the axle down through the roller into the socket.
I would also worry that the original axle may be the perfect length and the replacements may not be.
A home owner from Westville, IN says:
July 3, 2013
Thanks for the advice on the axle,very much appreciated. I'm a little worried myself with the age of these that I may make the situation worse by tinkering. I'm wondering since I'm having such a hard time finding replacement rollers if I bought the large replacement track cover if that would improve the existing rollers. Some of the rollers are loose/wore at the axle point so I know they need replacing but the ones I took the photo of are in decent shape. If I can get at least some of the 6 doors working better I have the option of not using the others. Again any advice is appreciated.
Dave Sr. from SWISCO responded:

July 5, 2013

If your track isn't damaged then I don't think you would need a track cover. Try our

75-077

lube stick.
A home owner from Westville, IN says:
July 5, 2013
I can see some wear on the track from the point between where the rollers actually touch and where they don't but it is even wear, not roller coaster as I've heard some describe it as. So I guess that wouldn't be considered damaged then?
Dave Sr. from SWISCO responded:

July 5, 2013

Yeah, I don't think that would merit a track. If you still want to try it out, it's up to you, but I would try lubricating it first.