Is there a front and back to swisco mirror door top tracks?
A home owner from Sunnyvale, CA says:
November 5, 2015
I bought a house using what I believe is swisco sliding mirror door hardware (e.g. rollers AN-20121 and AN-34124). We had to remove the sliding doors and the top tracks in order to remove an acoustic ceiling and now need to reinstall them.
My question: the top track appears to have a distinct front and back side (see photo, the cross-section is more detailed to the right side than the left). Does it matter which side goes out (faces the closet user)? And if so -- is it the more "dimpled" side or the "flatter" side?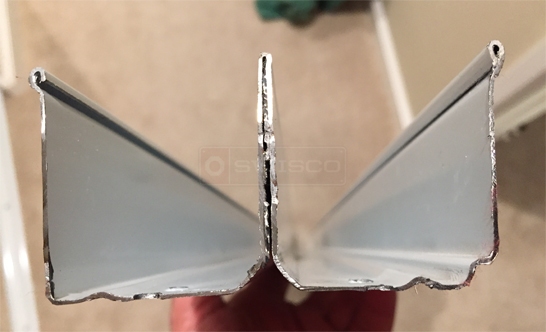 Paul from SWISCO responded:

November 5, 2015

I don't think your track is meant to be different on either side. The irregularities seem to just be due to wear and age. I believe our

23-244

is a good match, which is the same on either side.
A home owner from Sunnyvale, CA says:
November 5, 2015
Thanks for the reply. I'm almost certain this is not wear and age as the curve on the right side (in the pic above) is uniform the whole length of the top rail). But it could well be that the part is older.

I'll assume this will work either round, and just put it up whichever way looks better!


A professional from California says:
November 6, 2015
The part where it curves is too high to ever be touched by the guide (unless the door was miss-measured ), so I would assume it must be aesthetic.