Converting back from the Rite-Trak II hardware
A professional from Schenectady, NY 12306 says:
May 31, 2011
I have bedroom furniture purchased at a local furniture store. Two of the drawers sockets 32-081 broke. The furniture store supplied me with Rite Trak II replacements. They didn't seem to line up perfectly but I got them to work. I appeared to me the old ones were improve to a stronger design. Since then two more broke. The furniture told me to go to swisco.com and I should be able to get more replacements. It clearly states on the web site that the 32-081 & 32-082 are not interchangeable with Rite Trak II hardware. Will I have a problem with the two drawers which now have the Rite Trak II hardware. How do I go able getting the correct hardware for the current broken drawers. I have a total of 19 drawers where 4 (21%) have failed. Should I expect the remaining sockets to fail. Attached are photos of the original 32-081 and the replacement, Rite Trak II which was not suppose to work. I look forward to a reply.
Thank you,
Ron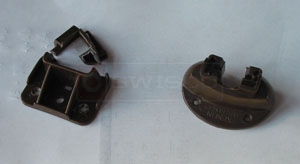 Mike from SWISCO responded:

June 1, 2011

Many people have complained about the Kenlin

Rite-Trak I

hardware breaking. I imagine that is why Kenlin designed the

32-082 heavy duty socket

and then changed the socket design with their

Rite-Trak II

hardware.

I do not have any experience of converting a Kenlin drawer system from the

Rite-Trak I

to the

Rite-Trak II

, so I am not sure how easy it would be to go back. I would think that using hardware that was originally made for your drawer system would be easier to install than hardware made for a different hardware system.
A home owner from PA says:
November 21, 2011
Same issue here...
The furniture seller where we bought our (pretty darn expensive) bedroom set from told me that the drawer slides were not covered any longer because the manufacturer does not use the same parts any longer. WHAT?
so, it still falls under the same 5 year manufacturers warranty for everything Other than the plastic slide parts breaking under normal conditions.
Parts cannot be ordered, and the replacements that were recommended do not fit.
Hopefully the metal slide can be modified to fit the heavy duty socket.
I'll let you know.