Kitchen drawer rollers from the early 60's
A quick learner from south elgin, illinois says:
May 8, 2011
i need to replace some drawer rollers for the kitchen drawers. these cabinet and drawer units were installed in the early 60's. so far i have found nothing locally and hope you can help, i have included two photos to show what i am looking for.
thanks for your time and assistance in this matter.
jon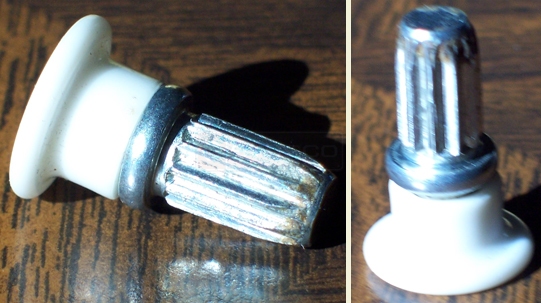 Mike from SWISCO responded:

May 9, 2011

Hi Jon, thanks for posting with images. I have not seen this type of drawer rollers before. I am going to start researching a replacement for you but I would like some more information. Take a look closely at the drawer roller and the other drawer sliding hardware. Look for any stamps, names or patent numbers on any of the hardware. Respond back here with anything you find. Also, do you happen to know who manufactured your kitchen drawers (sometimes you will find a brand name printed on the underside of the drawer)?
A quick learner from south elgin says:
May 10, 2011
Mike,
thanks for getting back to me. i have looked in every cabinet and on every drawer, there are no numbers, names or codes... the only stamp i found was : May 1964. since both my parents are deceased, i have no one to ask or find out any more details, sorry.

note : the original rollers were all plastic, the pictures i sent were of a replacement part i found many years ago.

again, thanks for any help.
jon
Mike from SWISCO responded:

May 11, 2011

I was looking around for similar hardware and I came across this earlier

discussion about kitchen drawer rollers

. Take a look at that discussion, I think these other users are trying to replace the same roller you have. Donna made a few suggestions near the end of the discussion. Let me know what you think.
A home owner from Bowie, Maryland says:
May 20, 2011
Dear Sir or Madam,
I am looking to replace ten 5/8"diameter nylon kitchen drawer rollers (photo below) that were installed in my Levitt-built home 46 years ago. I cannot find them in local stores.
Please advise if your store sells this type drawer roller. If no, please advise who might sell them. Thanks in advance for your response.
Sincerely,
John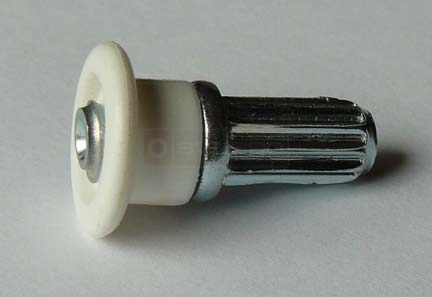 Mike from SWISCO responded:

May 20, 2011

John, I've placed you in an existing discussion because I believe you may be able to get some good information from some of the other users in similar situations.

Also, you may want to take a look at an earlier discussion regarding

kitchen drawer rollers

.
A quick learner from Bowie, MD says:
July 4, 2011
Wonderful pictures John, I wish I had some in that good of shape. Mike, the ones referenced in the earlier discussion have too wide a diameter. I measured about 3/4" on the drawer slide.
A quick learner from Ohio says:
August 17, 2011
Has anyone found a replacement for these
rollers ?
A quick learner from Bowie, MD says:
August 18, 2011
Didn't find replacement. Hubby did modify the system by cutting off the slide on the drawer, replacing with a new one from hardware store (riveted onto the drawer over the cut-off remains). Cut off the roller from the other piece and attached it to the cabinet. Thank goodness for the top center guide. Not a perfect solution, but it works great - nice and smooth.
A quick learner from Kingsport, TN says:
December 30, 2011
I too am looking for the 1" long, 5\8" diameter metal post with nylon roller drawer glide. They are exactly as pictured in the images above. Has anyone made any progress in finding a suitable replacement? I believe that I could use part
87-191
if the diameter was 5/8" instead of 5/16". Do you have something similar to the
87-191
with at least 1/2" diameter roller?
A quick learner from PA says:
March 4, 2012
I too am looking for the same roller shown above.. and have been waiting for an answer to kingsport TN's question.
Donna from SWISCO responded:

March 18, 2012
A quick learner from PA says:
April 15, 2012
I too am searching for these exact same rollers for my parents. Their home was built mid 1960's and the rollers are really worn to almost nothing. Has anyone had any luck finding replacement rollers that work? Please let me know.

Patty
A handy person from Elyria,OH says:
August 6, 2012
I was able to repair my old drawers with the following:

1. Remove old nylon wheel from the pin.
2. Grind off the lip on the end of the old dowel pin with a grinder/file and finish with sand paper until the new wheel will slip on.
3. Here are the wheels that you can adapt to fit.

4. Place new wheel backward on drawer dowel pin, put in vise and using a file , file until the small end of the new wheel is flush with the end of the dowel pin.

5. Replace dowel pin wheels on dowel pin correct side out and insert into cabinet face, they won't slide off.



A quick learner from Rochester, NY says:
July 17, 2013
Hi handy person from Elyria, OH,

In #3 above you say, "Here are the wheels you can adapt to fit." I don't see them or anything about them before #4. Would you please clarify?

Thanks,
Quick Learner in Rochester, NY
A home owner from Bowie, MD says:
December 7, 2015
A homeowner Bowie, MD says: I would like to contact the quick learner from Bowie, MD who said in August 18, 2011:

Didn't find replacement. Hubby did modify the system by cutting off the slide on the drawer, replacing with a new one from hardware store (riveted onto the drawer over the cut-off remains). Cut off the roller from the other piece and attached it to the cabinet. Thank goodness for the top center guide. Not a perfect solution, but it works great - nice and smooth.

I need the same solution, thanks mike

A quick learner from Massachusetts says:
October 14, 2018
I used 19mm nylon shower door rollers with good ball bearings. I shaved the diameter slightly and beveled them with 'sanding drums' with my drill (a demel might be faster) When correct size to glide smoothly , I used screws that do not have threads near the head (so bearings would turn freely). Then used plastic inserts that fit in the holes (the ones I had that fit I had to trim the length.)