Latch spring for Forever Door
A quick learner from nj says:
April 12, 2011
Please see attached spring for a forever storm door latch.
I am looking for the spring only.
Since I had this door for aprox 10 years I replaced the entire latch assembly 3 times.
I want to order several springs and simply replace.
Do you have a part number or know who would carry these
Thank you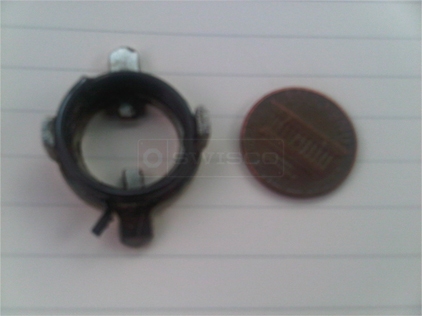 Dave Sr. from SWISCO responded:

April 13, 2011

Good Morning,

These Forever Door latches are a mess! I feel your pain.

Unfortunately, these handles are only available complete and replacement internal parts are not made available by Forever Door.
A home owner from Oregon says:
May 31, 2011
I agree with the requestor. Replacing these springs would be much easier and cheaper. Too bad the "Forever Door's" springs don't last forever. Maybe if we get enough requests you can take it to Emco for consideration.
A handy person from Connecticut says:
June 26, 2011
Too bad this spring is not available, and glad to see that i am not the only one that has run into this problem. I was considering purchasing a few of these doors for my own house, but this has changed my mind. I hope that Emco will make the spring available, it would be the prudent thing to do. Thanks, Owen
A home owner from Tennessee says:
October 5, 2011
I have two EMCO Forever Door. The springs break after a few years. I called the EMCO toll-free number and they wanted $57 + $8 shipping for the small spring. She said the springs are not guaranteed forever (which is what the customer is lead to believe), but have a 1-year guarantee. I am guessing this spring "should" sell for a dollar, not much more. The guy at Home Depot said the company sent these springs to customers for free (but they do not know if they did!)
A quick learner from Maryland says:
March 11, 2014
After several tries, I found that by bending back the broken part of the spring 90 degrees and directly opposite (180 degrees) from the still intact hook portion on the spring and cutting the excess off with my Dremel tool with a cutting wheel and grinding the new prong down for the right clearance in the latch housing, I was able to get the door latch to work with the door handle returning to the neutral position each time. Used lithium grease in the housing and the outer circular plate.
A quick learner from narragansett, ri says:
July 21, 2020
I tried the trick suggested by Maryland above and it worked for me. I suspect that Emco refuses to sell the spring because it's so difficult to install.
He suggested the 'hooks should be 180 deg apart but I found that, to make the heavy handle return to neutral, the spring must be pre-tensed. So the the hooks need to be less than 180 deg (or more than depending upon your perspective). Ideally, the spring is wound tighter when inserted as the coil is a little too large to fit between the taps on the piece that inserts over the spring.
The getting the whole thing together so you reattach the cir-clip is a bear.
Also, by removing about a half coil of spring, I suspect it will break again even sooner. But at least I got it back together.