MI Window balances and jamb covers.
A home owner from USA says:
November 25, 2014
Here are some photos of the jamb covering on my MI windows. The installer said I need Capital
series 850
block and tackle balances. I see you have those on your site. Can you tell me how to access the balances under these liners.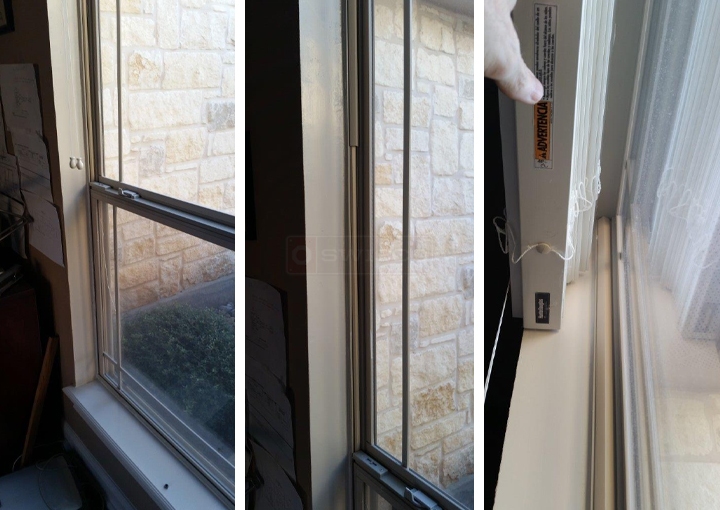 Paul from SWISCO responded:

November 26, 2014

There is no Capital

Series 850

that I know of. There is a Series 8500, but they use coil spring balances, not block and tackle. I'm not sure what you have, exactly. Every company uses different Series codes, more or less, even if it's for the same type of balance. It's not a good idea to use a code from one company to order balances from another.

Are you perhaps referring to our SWISCO

Series 850

crossbow balance? If so, it is very simple to remove. Watch the video below.

If you do not have this balance, then I will need you to remove the sash and take a picture of the balance as it is in the jamb. We will work from there to help you find a good match.
A home owner from san antonio, tx says:
November 26, 2014
Paul,
Here are pictures of the jam and balance taken off. There is an almond cover over the balance assembly to match the window (almond). The broken part at the bottom of the block & tackle piece can be seen clearly. Based on this broken part, the left balance assembly is what's broken. The right balance appears to be ok, other than the "cord" is off the spring. Not sure how to put that back together. Can you now identify what balance assembly I need to repair the window?
Having trouble with discussion post.
Thanks!
Bryan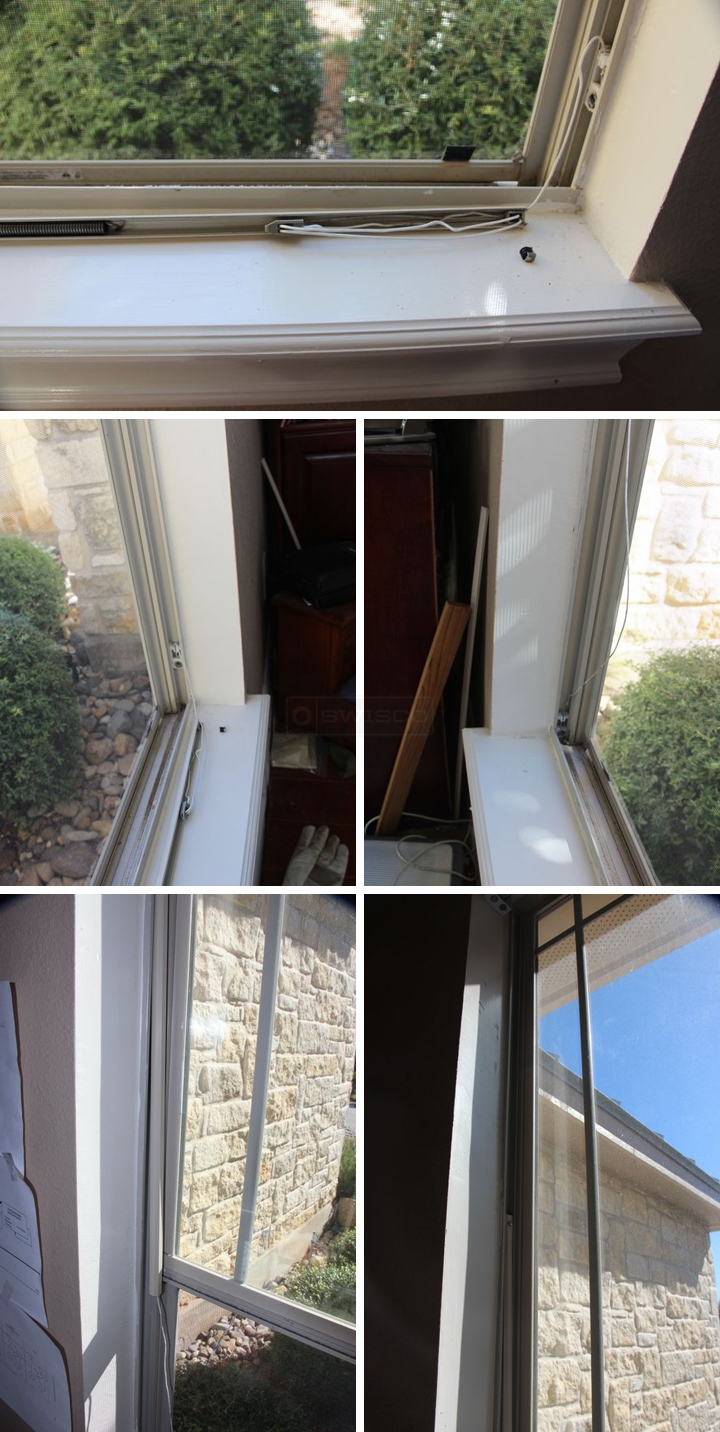 A home owner from san antonio, tx says:
November 26, 2014
Paul,
Here's the broken balance block & tackle piece. The part cannot be fixed, of course. The jam sleeve or cover is almond and it fits tightly around the metal balance assembly.
Thanks again for your help on identifying this part.
Bryan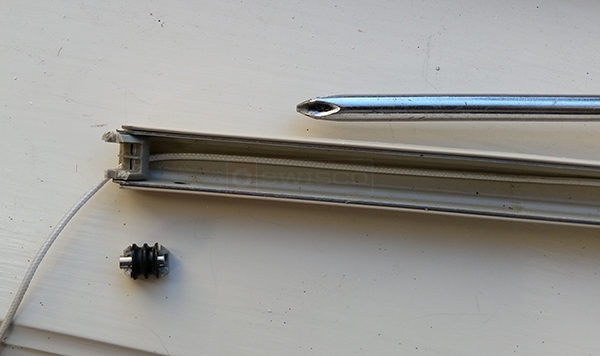 Paul from SWISCO responded:

December 2, 2014

Ah! Thank you. Now that I see the balance, I believe you have something like our

Series 750

channel balance. Check it out and see if you agree. I'm afraid we do not have the balance cover.
A home owner from san antonio, tx says:
December 2, 2014
Paul,

Ok, that's very, very close to what I have. The dimensions need to match the vinyl almond cover I have now so the balance is hidden. The 29in length is perfect. The cross sectional dimensions look to be about right. Ok, what about the tie-bar guide, or what I called the "tilt". The channel balance shoe on the balance (end) fits in the tie-bar guide. I need to replace my old tie-bar with a new one, to match the new balance. Is that correct? If so, then I'll order two sets of parts and replace both balances in the window. Am I missing anything?

Thanks a bunch!
Bryan
Paul from SWISCO responded:

December 3, 2014

Great! I'm glad we're getting closer to a solution. The part you're referring to is a pivot shoe, not a tie bar guide (a tie bar guide is a casement window part). Now, we can make a version of the

Series 750

for you with a special

15-043

terminal clip attached to the end instead of the one it usually comes with. I believe this clip can fit in your existing pivot shoe without needing new ones. If you agree, then all we need to know is the length of your balance and the stamp printed on the metal channel (you will have to remove the cover to see it). If you still can't find the stamp, then weigh the sash on a scale instead and we can use that.
A home owner from san antonio, tx says:
December 4, 2014
Paul,
I've attached four cross-sectional pictures of the liner right next to the balance. The balance is 29.0 inches long, 0.50 inches wide and 7/16th inches high. The pictures will tell you which is height and width. The cross-section is rectangular with notches. It is important that the new balances have these notches so that they will fit within the almond liner. If that can be met, then let's order two balances. Note that "29C(BSI)PN" is stamped on the balance. The (BSI) means rotated 90 degrees. 8 and 3/8ths ounces is the weight of the balance as you see it in the pictures. The block and tackle cord thickness is approximately 1/16th of a inch. A slightly larger cord should work, but not a smaller diameter cord. I estimate the window weighs less than 20lbs.
Bryan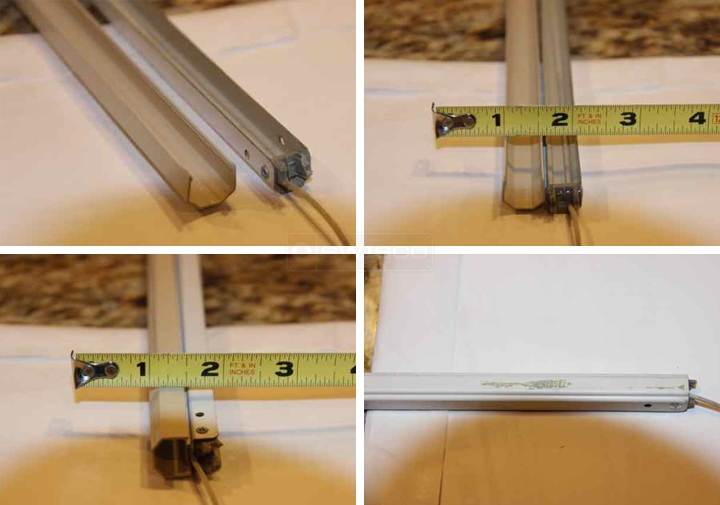 Donna from SWISCO responded:

December 11, 2014

We will email a custom balance ordering link shortly.