MW Window
A quick learner from Mount Joy,Pa. says:
December 2, 2010
Hi...I was told by MW windows to contact you folks to see if you have a replacement balance asm for my windows.Both balances broke & my window will no longer remain up. The windows are MW Twinseal and the chord which comes out of the assembly attached to the top of the sash by a clip that resembles a picture hangar. Well this clip broke and MW says they no longer have this particular type of asm. The windows are only 10 yrs.old. I looked at the balance assemblies on your website but didn't see any that attached at the the top like mine do. If there's some other info I can provide you with please let me know. Thanks!
From what I can see the inside looks like a block& tackle type setup that is attached to a heavy coil spring. It looks like your S795 except the top of yours has a peice of metal attached to the chord with a hole through it ware mine has the hook. The only number I can find on the balance is 26C. My sash measurements are 35 1/4 wide by 28 tall.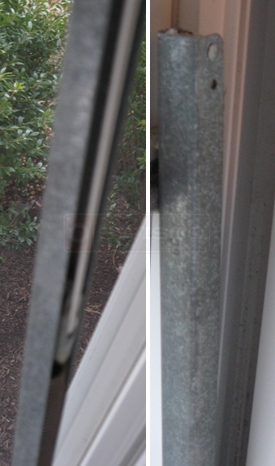 Mike from SWISCO responded:

December 7, 2010

We will need to see more photos of the balance in order to identify it. If you can, please submit a photo of the top and bottom of the balance.
A quick learner from Mount Joy, Pa. says:
December 13, 2010
My balances are definitely 26" and look identical to your S795 at the shoe end but the string at the top has a metal hook on the end instead of the end shown in your picture. The metal hook goes into a slot in the frame at the top.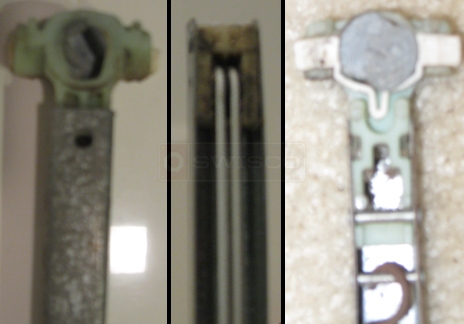 Dave Sr. from SWISCO responded:

December 15, 2010

Please take a look at the Swisco

62-105 Heavy Duty Pointed Hook

. If the metal hook you mention matches the Swisco 62-105, we may be able to make a custom balance for your application.
A quick learner from Mount Joy,Pa. says:
December 15, 2010
I don't know if it makes any difference or not but my hook looks the same as 62-105 except the bottom of the hook where the hole is for the chord is bent at a 90deg angle. I assume this is because they want the chord to be paralell with the frame instead at an angle.
Mike from SWISCO responded:

December 16, 2010

Sorry, we are not sure. We are going to need to see a picture of your hook to make a decision.