What will keep my bifold door closed?
A handy person says:
March 4, 2014
Need to know what is the piece that keeps the bifold doors closed, it is where on the top rail the doors meet when in closed position. Also the door the customer purchased at a retore had no hardwares and the top opening of the closet is 81" the mirrored doors are 78" tall. Do I need to lower the top header?

P.S. the door opening will be frameless.
Paul from SWISCO responded:

March 4, 2014
A quick learner says:
March 4, 2014
would you recommend this rails
21-402
?
Do I really need to lower it since thrails are 5/8" each which will add 1-1/4" plus another 1" total gap btwn the top and bottom door. which brings it to a total of 78" +1-1/4" +1" = 80-1/4". Or do I stand corrected.
Paul from SWISCO responded:

March 5, 2014

Thanks for getting back to us. The

21-402

could work, but I can't say for sure without more information about your hardware. If you want, you can take a few pictures of your existing track and upload them here for us to look at and identify.
A quick learner from Illinois says:
March 6, 2014
They said the pivot pin is 3/8" in dia. The glider is 1/4" dia. He also said there are no bottom glider pin. However the photo shows a hole that will accommodate a pin. Please let me know what parts they need to install the metal 30" bifold mirror doors.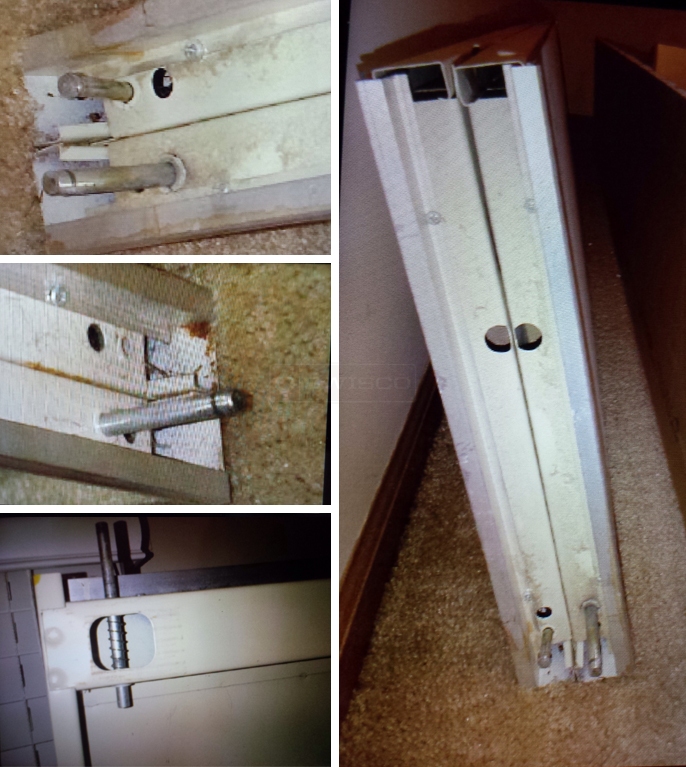 A quick learner from Il. says:
March 6, 2014
The pivot pin is 5/16"
The guide pin is 1/4"
The hole for the bottom guide pin is 5/16" without the plastic bushing
Also need 2-60" tracks

Please see photos
The first pic is both top pivot and guide pins
The second pic is the bottom pivot but missing a guide pin.

Please help!
Paul from SWISCO responded:

March 6, 2014