Need replacement tandem rollers for large patio sliding doors
A home owner from Eminence, Ky says:
September 14, 2011
I have a 8 ft wide sliding patio door. Each door is 48". One of the rollers went bad. Am looking for replacements. Have attached pics of the rollers as I have not been able to locate. Your help is appreciated.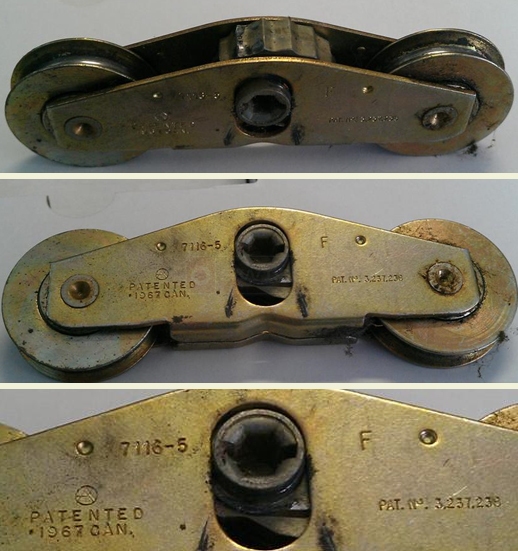 Dave Sr. from SWISCO responded:

September 15, 2011
A home owner from MELBOURNE FL says:
October 5, 2013
wHAT TYPE TOOL FITS THE ADJUSTING SCREW ?

DOES ONE USE THE STANDARD LEFTY LOOSEY, RIGHTIE TIGHTIE RULE IN LOWERING OR RAISING THE DOOR ??

tHANKS
THE ROLLER ASSY IS NOT CENTERED IN THE DOOR FRAME , SO i MIGHT HAVE TO CHISEL SOME OF THE DOOR FRAME TO GET ENOUGH CLEARANCE TO USE THE TOOL THAT FITS THE
ADJUSTING DEVICE.
Dave Sr. from SWISCO responded:

October 9, 2013

A regular screwdriver should fit the slot. It should also be visible on the face of the door. Turn it clockwise to raise the door, counterclockwise to lower it.
A home owner from MELBOURNE FL says:
October 11, 2013
Thans for Answering my questions . Since the acess hole is only one inch above the floor, i cannot see the screwdriver slot in the adjusting screw,and could not locate the slot-by feel.
Looking at your illustration I
concluded that an allen wrenh could be
inserted blindly in the screw head and would work - IT DID. i was able to adjust the doors so they are prefectly square with each other

Thanks again