Patio screen corner assemblies
A home owner from coppell, tx says:
March 26, 2012
Hi,
I'd like to repair my sliding door mesh screen with new corner assemblies but first off, I have not been able to take the remaining corner pieces apart from the frame. See attached pictures. Could you please help? Do you have spare parts for my screen door?
Thank you very much,
Daniel.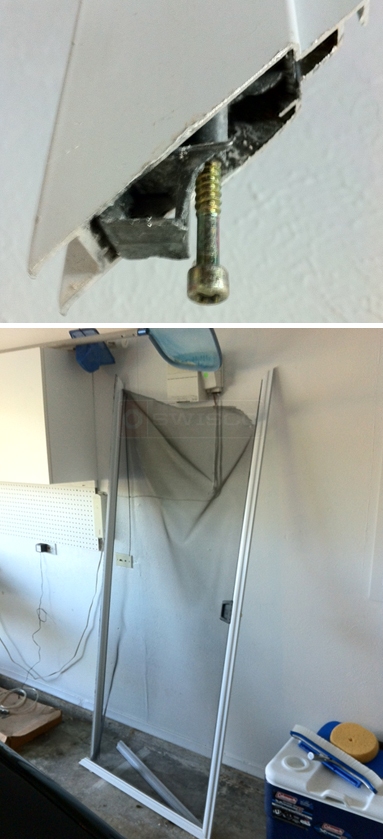 Mike from SWISCO responded:

March 27, 2012

Hey Daniel,

Is there any chance you can pry those old corners out? We would really like to see what it looks like when it's removed from the frame, not to mention it would be easier for you to get a few measurements.

If you can remove it, take a couple pictures and send them to us so we can get a better idea of what you'd be able to use as a replacement.
A home owner says:
March 27, 2012
I tried once with no success. The remaining corner pieces are stuck within the frame. I will try again and report back.
Dave Sr. from SWISCO responded:

March 28, 2012

Check to see if the corners on the door itself have been pinned. Look for indentations-- or pings--on the edge of the frame, or perhaps inside the edge. If that is the case then you will have to drill out the pin marks to release the corner key.

Please refer to the video below where we show an example of how to drill out similar "pings."
A home owner says:
March 28, 2012
Dave, I wanted to thank you for taking the time to find that video explaining how to remove pinned corner assemblies. I'm pretty sure my screen door doesn't have those. Anyways, I went to the "orange" store this morning and with the previous homeowner telephone number the staff was able to find the order as they were installed by them in 2006. It turned out that they have the screen door in stock for $44. I went ahead and bought as it wasn't that expensive and saved me time.

Thanks again for your help.