I need this Pivot Blocks not sure if 15-175
A handy person from york me says:
June 7, 2013
Tom from SWISCO responded:

June 10, 2013

Thank you for posting. Unfortunately, cams are not sold separately for this pivot shoe. If yours are broken, you'd have to replace the whole thing.

As for whether or not the

15-175

is a match, how do the dimensions compare? Other than the blue pad, is the style the same? If the dimensions or style differ in any way, let me know where exactly.

Finally, to determine what spring weigh you need, check out what numbers are stamped on the springs you have now. If there are no numbers, tell me how many coil springs you have installed in the window at the moment and how heavy the sash is. That will give us a good idea of what you need.
A handy person from york me 03909 says:
June 17, 2013
I orded ordered coil balance shoe
15-175
- 1 3/8 high & 1 1/4 wide gray with slate blue brake. I have a white nylon povit shoe With beige Brake. The brake on the new shoe won't hold the shoe I think metal cam is to narrow
Tom from SWISCO responded:

June 18, 2013

I'm sorry to hear that the

15-175

didn't work. At this point, I think it'd be best if we saw a few pictures of your existing pivot shoe. That will cut right to the chase and let us know what you have.
A quick learner from york me says:
June 25, 2013
Here's a picture of my original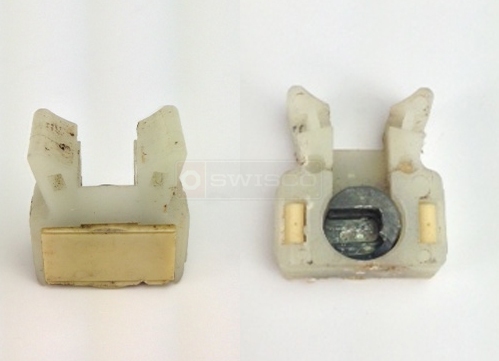 Donna from SWISCO responded:

June 28, 2013

Hmm... your original break pad actually looks like it's still in good shape. I recommend that you try to see if you can pop it out and switch it with the blue break pad on the new shoe.

The different color breaks are for different friction depths for locking into the window jamb channel, but it may still work. Give it a shot and let me know how it works.