Pivot shoe
A home owner from USA says:
June 15, 2016
Gentlemen,
My vinyl windows are dated (on glass mullion/spacer) 81 (1981). They may have been sold through Sears, but I can't be certain.
First attached composite picture shows my existing hardware, and a detail of one of your pivot shoes that has the same cam slot dimensions as my shoes. Details picture of Product Code #
15-015
(what looks close to what I need) did not have cam slot dimensions.
The second attached picture is of an item of yours I found at your online site that is close to what I have. I used a dial caliper for measurements (overkill). My shoes are .543" thick, or .012 thicker than 17/32" given for your Product Code #
15-015
. You have a couple of 9/16" thick shoes with the right height, but they might be too tight unless they measure about .015" less than a full 9/16". Would mine be considered 9/16" since they are thicker than 17/32"? I have .025" clearance in track with existing shoes (used feeler gauge).
My spiral balances appear to be exactly like your new ones, 9/16" exact diameter, and length measured the same way. The composite picture shows the distance between the pins on my spiral balance tubes, about 11/32". That makes for a snug fit when engaging the balance shaft into my existing pivot shoe slot. Is it possible to get the distance between pins (or center to center distance of pins) on your current shafts? Might the pin spacing be the same on your new balances as my 35 year old parts?
Suggestion for Pivot Shoe based on info provided?
Thanks for any help,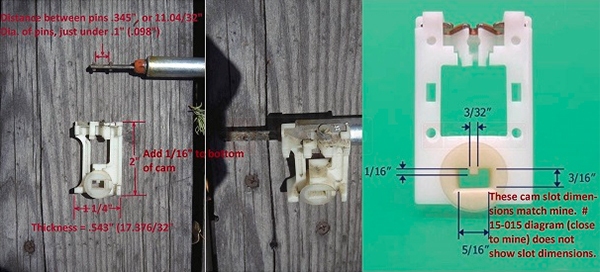 Paul from SWISCO responded:

June 17, 2016

Hello! Your original pivot shoe looks like our newer style

15-015

pivot shoe, where the locking devise is on the side of the shoe. The

15-046

has the locking devise in the back. The balance looks like our

Series 600

spiral balance. The pins on this are 7/16" apart. Since the late 1960's, the balance manufacturer hasn't changed their design. Your pivot bar on the sash is probably our

26-040

, which can fit into either pivot shoe. Let me know if that's a match.