Replace missing balances
A quick learner from Miami FL says:
December 29, 2016
Hello, I have an apartment with a single (broken) sash window that has no remaining balance hardware to use for identification purposes. The attached are images after taking out the sash window. The top part is fixed.
I can see two square holes in the centre of the frame uprights which I guess would take something clipped into them and there. There is also the remnant of an aluminum clip fixed at the top on one side (missing from the right hand side where there are 2 screw holes remaining). The only thing I see that comes close is the Block and Tackle Rod Balance - but I can't see how this would interact with the two square holes - or indeed with the window itself.
Any help would be much appreciated!
A quick learner from Miami FL says:
December 29, 2016
I managed to locate an identical window in a public area of my apartment building and when fully opened, it's possible to see a balance mechanism sticking out (see new photo). The one at the other side is either missing or not aligned the same way as it can't be seen like this one.
A quick learner from Miami FL says:
December 30, 2016
Looks like I couldn't upload the image using my phone, so back on a PC for another try.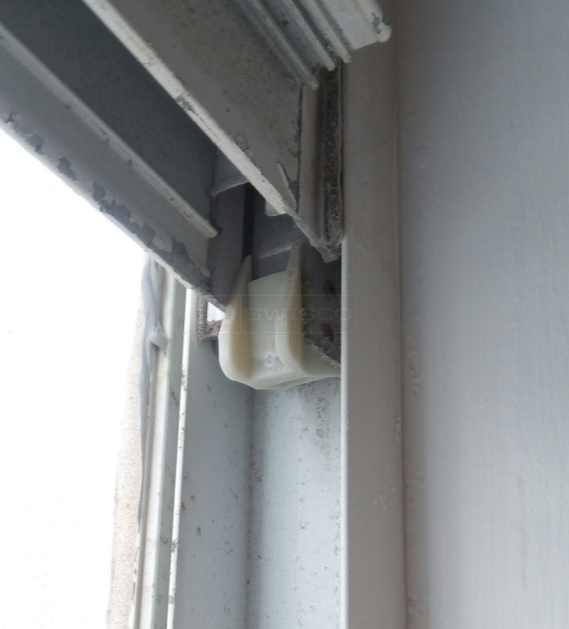 Tom from SWISCO responded:

January 6, 2017

Thanks for posting. We should be able to help you replace this balance, but we need to see a clear picture of the nylon caps on either end of the metal channel. To this end, we have to see it out of the window. See the video below for more information.
A quick learner from Miami says:
January 12, 2017
Hi Tom,

Thanks so much for your reply. I do have a couple of problems though... First, the image I sent of the balance 'peeping out' is in a public space and I am not able to disassemble this unit. Both balances in my apartment window are missing.

Secondly, this is a vacation / rental apartment and while I said I'm in Miami, I am actually now back in London, UK, although I will be back again before too long.

So, a question... How many possible balances would be a possible fit? Would it be reasonable to have a pair of each to see which works (I'm guessing here that it's the tension vs weight of window which determines the required balance?).

Even if I was unable to return the 'not required' balances, it may still be worth doing this to discover the correct ones as there are many windows in the buildings other apartments which I am certain would benefit from the knowledge I would gain.

If you could let me know if this sounds viable, I will work out when I will be back in Miami and make suitable arrangements for their delivery.

Again, many thanks.
Paul from SWISCO responded:

January 18, 2017

Through extensive research, I have come up with the manufacturer of your window: Yale Ogron. Unfortunately, they are no longer in business, but we carry some of the parts as shown in your photos, See our

18-168

top sash guide,

16-028

window stop,

90-293

window lock, and the

Series 351

balance system. Look over this hardware and see what you think.

In order to determine the proper size for the balance, we will need to know the height of the visible glass, the total height of the sash itself, and finally the weight of the sash.
A quick learner from Miami says:
January 18, 2017
Hi Paul,

Thanks so much for spending the time on this - I have clearly found the right company to deal with! OK so to get this information I will need to get back to the apartment and my next visit will be in early March. I could get someone to take the dimensions for me but I would rather be there to take the sash out myself for weighing.

I am happy of course to order all the parts that you have mentioned. Do you know if there is anything that I will need to finish the job that you don't have in stock?
Paul from SWISCO responded:

January 23, 2017

Sure, I made a list of items you can consider on the right side of this page. However keep in mind you only need to replace what's broken. There's no reason you can't reuse hardware if it's still in working condition.
A quick learner from Miami says:
May 8, 2017
Hi Paul,

I got to the apartment and weighed the sash. It's 11.3Kg (25 pounds). The overall dimensions are 4' 3" wide by 2' 2" high and the glass dimensions are about an inch and a half less all round.

Hopefully that will be enough detail?

I will be back at the apartment in a few weeks time and would like to mend it then. In order to get the parts I will have them sent to Dallas where I will be working between 23-29 March. Will I be able to get delivery during that week?

Just to reiterate, there is no hardware remaining in the sash itself. There is just one aluminium clip in the window frame - which I would prefer to also replace.
Paul from SWISCO responded:

May 12, 2017

Taking an educated guess, I would recommend our

S377-24

balance with a 2350 option. This is for sashes weighing 24 through 27 pounds. I cannot guarantee this will work, but based on the information you've gathered for us I think this may be a good option to consider.
A quick learner from Miami and London says:
December 6, 2017
Hi Paul,
Thanks for your help with this matter to date. I have been 'fighting' with the job which unfortunately has still not been completed. The problem is that the balances are too 'deep' as in they protrude in beyond the frame ...
I can fit the balances into each side of the window frame and I can fit the window into one side and locate it to the top of the balance, but when I try to swing the other side of the window into position the window has effectively been 'made wider' as it has been pushed out by the first balance. This means that the window hits the front of the frame channel rather than going inside it. It's close and with a bit of force and maybe would fit past with some adjustment by filing down the inner edge of the window frame. But...
The second balance - also being proud of the window frame make it impossible for the window to get into position even if I can get it past the frame.
It's hard to properly explain in words. See attached photo of the balance protruding from the channel in the removed window - as well as a sketch attempting to show the problem.
I hope this makes some sense - let me know if I can elaborate more!
Another comment: if the balance is positioned in the window channel with the top butting up to the vent bracket, the bottom of the foot is level with the bottom of the window - and because of its shape this makes the channel balance even more proud of the window edge. I'm not sure if the balance should be longer to resolve this..?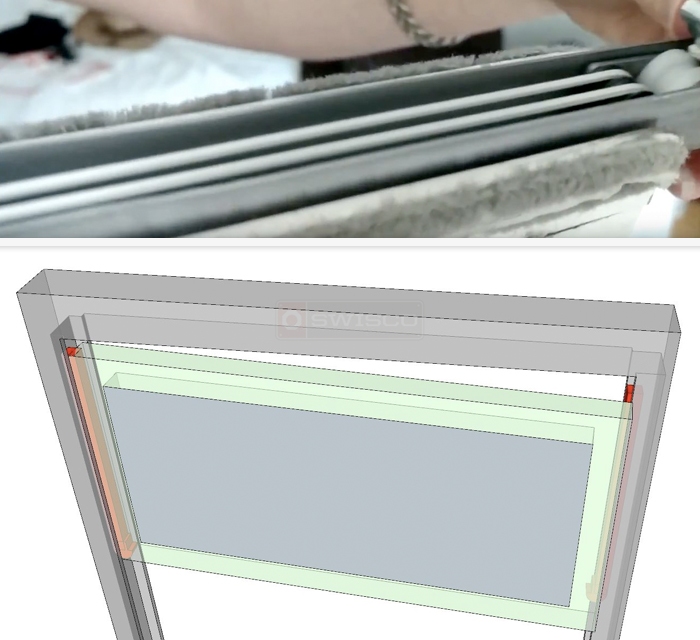 Paul from SWISCO responded:

December 8, 2017

Unfortunately, the balance manufacturer doesn't make this channel balance with a depth less than 5/8". If I read you correctly, when you put one side of the sash over the balance channel just above the bottom shoe and swing it over to the other side, the sash doesn't clear the channel. If so, I think you might want to call a window repairman to see why. There may be a problem with how the window frame has settled.