Replacement Parts - Roto
A home owner from Delaware says:
April 17, 2016
One of the crank handles on my casement window broke off and part is left inside the operator. The information underneath the operator is: ROTO OP 05 7553-03 ---- The information inside the crank handle is: OP05-7810. I need to replace both parts. Any assistance you can provide will be appreciated. Thank you.
Tom from SWISCO responded:

April 19, 2016

Thanks for posting. I wasn't able to match the number on your operator, but the number on your handle is often associated with our

39-226

. Can you confirm?

You mention that you need both the operator and the handle, though. The

39-226

is unique by the fact that it's "male," while the operator on which it installs is "female." This setup is actually no longer used in the industry. Most modern handles are "female," while the operator is "male." If you're replacing the operator then we will not have a match to go with the "male" 39-226.

If possible, please remove your old operator from the window and show us a couple pictures of it by itself. We can use that to locate the best possible match, and then recommend the best handle for that match. Thanks!
A quick learner from Bear, DE. says:
April 23, 2016
Thank you for your response. After removing the operator as you instructed, the part of the handle that sheared off came out. I took the handle from the other side of the window and it worked the operator unit perfectly. All that is really needed is the handle. I am attaching photos of both handle and operator in hopes you can steer me to the correct handle to purchase.. Many thanks
Ps I have additional pics if needed (including the operator itself) please let me know if you need those pics as well.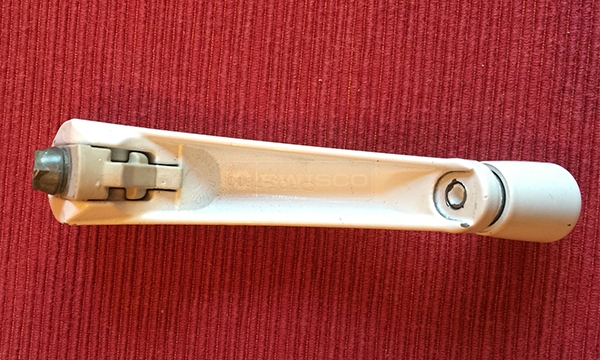 OP05-7810
Tom from SWISCO responded:

April 25, 2016

Oh, great. Did you see the

39-226

I mentioned before? This looks to be a close match.
A home owner from Canada says:
October 23, 2016
I think I have a similar product, but the plastic piece in the female operator seems to be stripped. Is there a replacement piece I can order still or are all replacement parts no longer being sold?
Tom from SWISCO responded:

October 25, 2016

We still sell the

39-226

, but if the female portion of your operator is stripped there isn't much we can do aside from recommending you replace the entire operator (which will require a different handle). Alternatively, you could try packing it out with masking tape. We've done that before in a pinch.