Replacement channel balancers
A home owner from Valencia, CA says:
August 16, 2016
Hi,
I have several single-hung windows in my (new to me) house that need to have the channel balancers replaced. Each window is identical in design (but not size) and appears to be from the same manufacturer but I cannot find any identifying label.
I have attached a photo showing a typical stamp, shoe, balance top and sash guide in the window. With the exception of the stamp #, each window has the same style balancer.
Before you read the list, however, there is one more issue I would like to raise. The first giveaway that there was something wrong with the window was that you could see one of the balancers (sometimes both) above the sash while the window was closed. I wonder if the shoes are undersized and need to be a little larger so they can't slip by the sash so easily? To put it a different way, the current balancers look like your S380, and I wonder if they shouldn't be S385? Hopefully you can share some expertise on this.
Here are my windows:
Windows 1 & 2
Balancer length(all measurements excluding plastic attachments) 27", 25 lb sash. Sash dimension 45.25"w x 29.625"h
Window 3
Balancer length 26.75", 19.5 lb sash, sash 33.25" w x 29.625" h
Window 4
Balancer length 27", 15 lb sash, sash d 27.25" w x 29.5" h
Window 5
Balancer length 23.75", 10 lb sash, sash d 21.375" w x 26.5" h
Window 6
Balancer length 20.75", 8.5 lb sash, sash d 21.25" w x 23.5" h
Windows 7 & 8
Balancer length 26.75", 17.5 lb sash, sash d 33.375" w x 29.75" h
Window 9
Balancer length 20.75", 15 lb sash, sash d 27.25" w x 23.5" h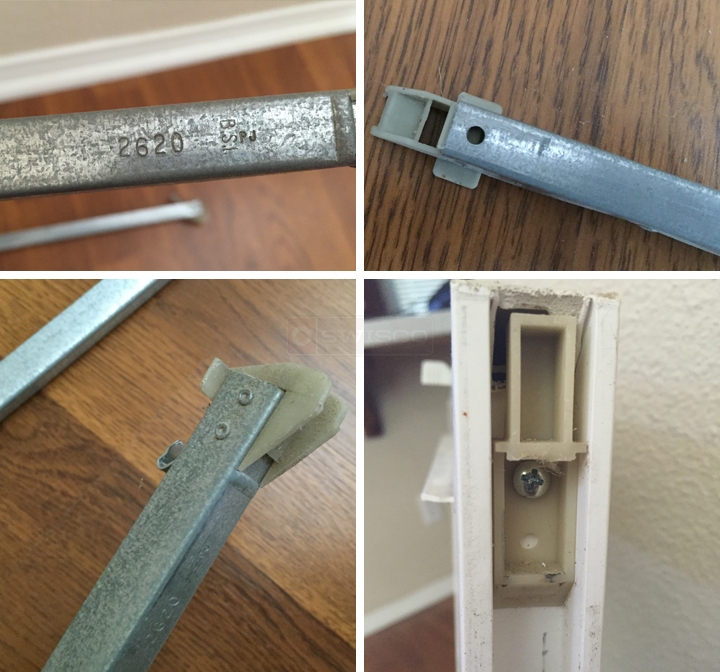 Paul from SWISCO responded:

August 19, 2016

Hello! Thanks for your patience. The top sash guide you show in your fourth photo resembles our

18-171

, while the balance looks like our

Series 385

channel type balance. I'm not sure why the balances are sticking up. It could be a simple matter of the top sash guide being worn. Take a look at the video below to see what kind of issues that can cause.
A quick learner from Valencia, ca says:
August 29, 2016
Hi,

Just to make sure I don't get confused. The current balancers have the smaller shoe of your S380, not the 385. If I replace all of the top sash guides, should I stick with the smaller shoe of the S380 (matching what I currently have) or also go with the larger shoe?
Paul from SWISCO responded:

August 29, 2016

Ah, I see. If the

Series 380

is a better match, then I would go with that. Both are compatible with that top sash guide. Sorry for the confusion!
A home owner from Valencia, Ca says:
August 29, 2016
I'm still unclear on this. The central point of my question is whether the shoe size of the existing balancers is a key factor in why the balancers have consistently slipped away from the sash and come to rest at the top of the window frame while the window sash is in the down position. You have suggested that I replace the top sash guides, which I intend to do.

What I am still unclear on is whether I should also get balancers with larger shoes (since every window has the same basic failure) or whether that would only create a new problem for me. I simply don't understand the purpose of the shoe on a balancer well enough.

In other words, should I see the failure of every one of my single hung windows as a function of wear and tear (10 years) on the top sash guide or should I be suspicious of the balancers being undersized?

What is the potential problem if I were to get larger shoes? The window doesn't close fully?

Sorry for such a lengthy question. Thanks for your help on this.
Paul from SWISCO responded:

August 30, 2016

Based on your description of the balances shooting to the top of the track, then the problem is the top sash guide. The balance itself is rarely the culprit in those circumstances; specifically, the size of the shoe has nothing to do with why this happens. The top sash guide alone is what keeps the balance in place, and when it wears or is damaged then there's nothing stopping the balance from shooting up.

If the shoes are too big, then your sash will be more difficult to close, and it may even cause damage to the balance or the sash itself. If you think that would fix your problem then it may be worth a try. In a worst case scenario, you can always shave the shoes down a little.