Replacement sliding door lock - Pat 3596954
A home owner from Michigan says:
June 20, 2011
The lock on my sliding glass door is broke. I'm looking for a replacement. Local stores here do no carry this part. While searching online, I came across your site. I want to send a picture to make sure I'm about to order the right part. I'm looking at part number
82-214
on your site. I think that's the right one.
Thanks in advance for your help,
Ken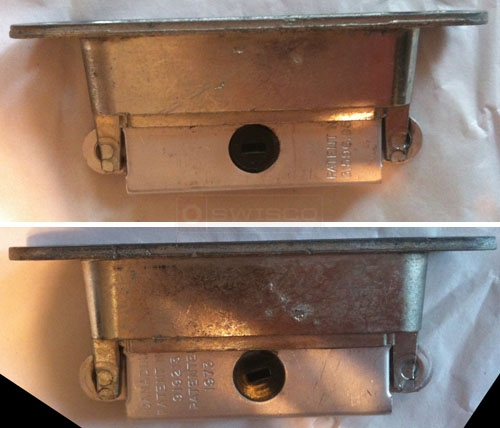 Stamp (top image)
PATENT NUMBER 3,596,954

Stamp on reverse side (bottom image)
CANADIAN PATENT NUMBER 919213
PATENTED 1973
Mike from SWISCO responded:

June 21, 2011

Good Morning,

I had the product pictures of the

82-211

and the

82-214

redone to show more detail. I was not sure which one of these two latches match up to your original latch. Take a look at each product picture (you may have to hit the 'refresh' button on you Web browser to update the image you see). Match the measurements of your original latch to the dimensions found in the product picture.

Let me know if one of these latches match yours.
A quick learner from San Francisco says:
April 1, 2012
Dear Swisco,
I am looking for a sliding glass door handle replacement similar to the one in the photo. The only indication on the handle is US patent number: 3,596,954 and the Canadian patent number 919213 (patented 1973). Do you still keep this part in stock? I need 2 of them.
Thanks
Martin
Mike from SWISCO responded:

April 2, 2012

Martin, have you taken a look at the

82-005

Surface Mount Door Handle? Compare it to your original and see if the screw hole centers (4-7/8") match up.

It can be switched to work both left and right on your door:
A quick learner from San Francisco says:
April 2, 2012
Dear Mike,
Thanks for the swift reply to my e-mail. The
82-005
surface mount door handle that you indicated does not have a lock-out device (visible in red on the photo I sent) that prevents the lock from being opened. Second, the screw hole centers appear to be exactly 5" apart and not 4-7/8" as indicated for
82-005
. Hence, even if you do not have an exact replacement part, do you have something that has a lock and the correct placement of the screws.
Thanks
Martin
Dave Sr. from SWISCO responded:

April 3, 2012

It appears that the

82-005

is the closest possible match that we have, in terms of screw-hole distance. I would recommend that you double check and make sure that it's not a little closer to 4-7/8". As for the locking lever, the

82-005

has one very similar to yours--visible in the above video--just a different style. Unfortunately, it is not sold separately. You would have to purchase an entire handle set to replace.
A home owner from Monterey, CA says:
January 12, 2013
A home owner from Baker la. says:
October 22, 2013
need to order canada patent 3596954
Tom from SWISCO responded:

October 23, 2013

Thanks for contacting us! I've placed your post into an existing thread concerning this patent number. Check out our suggestions above and see what you think.