Rollyson window model
A landlord from California, MD says:
March 24, 2018
I have rollyson top window sash guide 60-675BL. I understand the Black is no longer available and only the 60-675 in white is available. I wondered if it's possible to tell what window model I have as well as the balance model based on the sash guide number.
Tom from SWISCO responded:

March 26, 2018

We would be happy to research replacement parts for you. Would you be able to send us some pictures of the window and parts that you are trying to replace?
A quick learner from California, MD says:
March 26, 2018
I have the sash guide information but not the balance. The location of the Rollyson window is different than where I live, that is why I wondered if you can tell me the balance based on the sash guide. A picture of the sash guide is attached.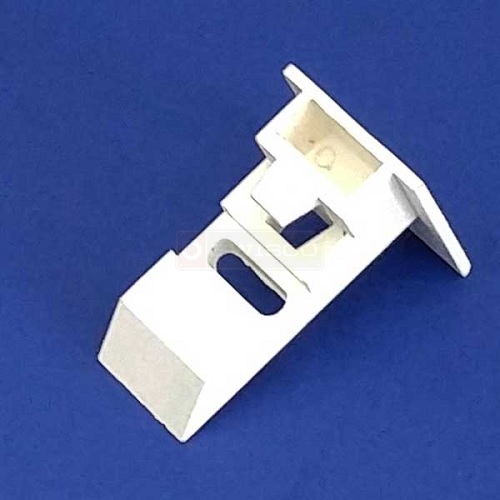 Tom from SWISCO responded:

March 28, 2018

Ah, I see. It'll be tough, but I think I have an idea. Your old Rollyson balance might have had a top attachment like our

19-031

. With that in mind, see our

Series 371

channel balance as a possible match. Keep in mind this is an educated guess; without seeing the original balance, there's no way to be 100% sure what you need.
A quick learner from California, MD says:
March 31, 2018
Hi there, I was able to take the window out and get a pic of the balances. I have 4 windows using 28 4 CO Caldwell balances. I need 8 of these ASAP. I also have 3 windows using 28 2 Caldwell KL balances. Currently these windows are operating fine but I?d like to know the replacement balance in case I need them in the future.

Additionally, I found that the top sash guide was missing. At first, I thought it was broken off. But it was completely missing and the screw is broken off in the hole. What are my options to save the window so I can have it operating as it should again.
Tom from SWISCO responded:

April 2, 2018

Great, thanks. Based on these pictures, it appears you have a Series 380 channel balance. This has the 19-005 top and 15-005 bottom, so as long as those match you should be okay. I would also check to confirm that both the 28 4 balance and 28 2 balance have the same nylon ends.

I'm not sure what the top sash guide might be. Is this different than the one you showed me above? If so, we'd have to see a picture of it.
A quick learner from California, MD says:
April 4, 2018
Thank you for the response. I have placed my order for 8. On one of my windows, the top sash guides that I show in my picture above, are missing. On one side of the window, the screw that secured the top sash guide in place is bent. On the other side of the window, the screw that secured the top sash guide in place is broken off. In other words, the broken piece is stuck in the whole and cannot screw out. Can you help me understand:
1) other than securing the top sash guide, does the screw serve another purpose?
2) how can I get the screw out and still save the window and have it function properly?
3) for the bent screw, under what circumstances would the screw become bent?

Additionally, on another window, one of the channel balances is missing the cord entirely from the pulley. Would someone have to physically remove this? or could it deteriorate to the point it completely vanishes?

Thank you
Tom from SWISCO responded:

April 6, 2018

Hello! Thanks for getting back to us. I'll answer your questions one at a time.

The corner screw holds the top sash guide to the sash, but it also holds the sash frame together. Without it, you frame will start to pull away from the glass. I would definitely keep them where they are.
The first solution would be to use an "EASY OUT" kit, which you can get from any local hardware store. Alternatively, you can also remove the sash, take off the top sash rail from the glass, and see if you can reach the broken screw thread from the sash. This can be a bit tricky, though. It wouldn't hurt to consult a professional.
If the screw bent, then I'd wager the composition of the steel used to make it was too soft. You'd probably want a good stainless steel screw. We sell them, as do most hardware stores.
Someone probably removed the cord from the balance channel, sure. I couldn't for the life of me guess why, though. The cord is made of nylon and it would take decades for it to deteriorate like you describe.
A quick learner from California, MD says:
April 9, 2018
Hi Tom,

Thanks very much for all your help and advise. I received the 8 balances and installed them. The windows are operating fine but it seems they have more resistance closing than opening. Is this normal?

Also, I have several issues I'd like responses to:
1) On a few of the windows, the balance top was not showing above the top sash guide. We opened and closed the windows a few times and the balances adjusted themselves, except one window. I am attaching a pic. How can we get the balance corrected?

2) While trying to adjust one of the windows to correct the balances, the clip (not sure if that's the right terminology) got bent and came out. We tried to straighten it, but it didn't get straight enough so it doesn't come entirely out the slot when you lift it up. I'll include a pic. Do you have one that I can replace it with?

3) If you recall, I indicated that I had three 28 2 Caldwell KL balances. I didn't need replacement for these but wanted to know which balance and heads just in case I need to replace them in the future. I'll include pic. There's a limit on your upload, so I'll try to do the balance heads in a separate post.
A quick learner from California, MD says:
April 9, 2018
related to previous post, sending balance heads and measurements.

Paul from SWISCO responded:

April 10, 2018

On the third image you show, I can see a glimpse of your bottom balance shoe. However, I do not know the measurement of it. Could you get back to us with that information? As for the top balance shoe, I am unable to get a clear shot of what it looks like because the measuring tape is covering it up quite a bit. Please also send some additional photos of the top shoe as well.
A quick learner from California, MD says:
April 11, 2018
Hi Paul,

The top and bottoms of the 28 2 Caldwell balance look just like the pictures I provided on March 31 of the 28 4 Caldwell balance. On April 9, I included the measurements of the 28 2 Caldwell.

Would someone please respond to the other issues of my previous post?
Tom from SWISCO responded:

April 13, 2018

Hey, sorry! I was out earlier this week and I don't think Paul was fully caught up with our correspondence. Let me go over your questions one at a time, like I did before.


It's not too

odd that your windows open normally but struggle to close. This happens sometimes with newer balances, whose springs can be a little stiff simply because they've never been used before. Give it some time and see if it persists.

I would try reinstalling the balance that's poking its head out and see if that helps. If not, try to spray the track with silicone to lubricate it. That might help the balance get back in line like the others.
This part is known as a take out clip. You definitely want to replace that one that's all bent up. See our 16-002 .
Based on your photos, this balance looks like our S380-29 , just like before.

Hopefully that clears up any confusion. Please let me know if you need anything else!
A quick learner from California, MD says:
April 13, 2018
Hi Tom,

Welcome back!

Thanks for your responses and for clearing up about the springs of the balances being stiff.

Regarding the silicone spray, could we use WD-40 or would the silicone be best?

The takeout clip--thanks for the proper terminology--looks very different than what I have, it terms of shape--does it matter?

Thanks for confirming that for my other windows, I'd need the same balance with the same head and foot. I assume I would do the stamp 2820, correct?
Tom from SWISCO responded:

April 17, 2018

You could use WD-40, but we find that it attracts a lot of dust and debris, which end up gumming up the works, so to speak. Silicone spray works just as well in this instance and is a lot cleaner. The balance springs themselves come pre-lubricated, but if ever you wanted to lubricate them in the future I would use white grease.

Our take out clips should be the same style as yours, I think yours are just bent out of shape a bit.

Finally, yes: a 28 2 stamp corresponds to our 2820 option. That's generally the rule of thumb for these kind of stamps, but if you wanted to be 100% positive, you can always weigh your sash to confirm. I don't think it's necessary, though.