Semco Replacement window crank mechanisms & arms
A home owner from Springfield, IL says:
October 6, 2013
Good morning!
Our home was built in 1989 and there are Semco casement windows throughout. We are in need of 2 replacements window crank mechanisms as well as arms--can you help us identify what we would need?
Thank you!
Micca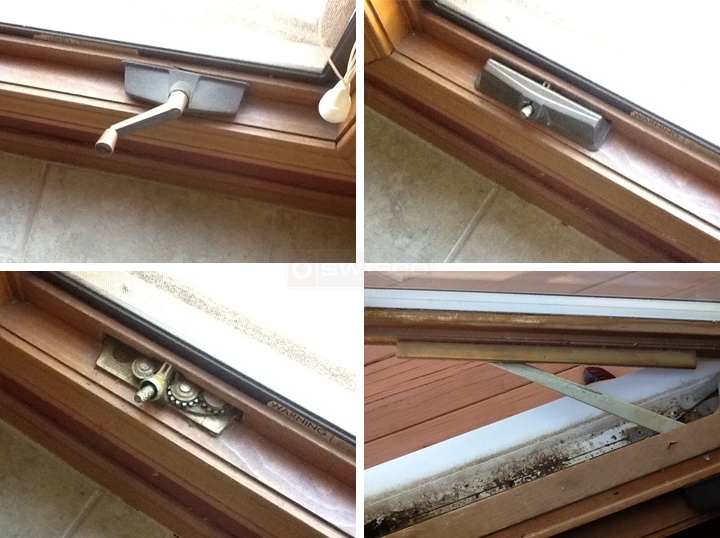 Tom from SWISCO responded:

October 8, 2013
A quick learner from Wauconda IL says:
May 5, 2015
How to remove the Semco casement window operator from the jamb itself. The arms seems to be good but the cranking apparatus does not work. How to remove that whole part, without tearing up the wooden jamb, and what to replace it with? Thanks for your help
Tom from SWISCO responded:

May 5, 2015

The only way to remove the operator shown in the pictures above is to pry up the wood trim. See the video below for more information.

We recommended replacement parts in our response above. You will need to carefully compare our hardware to your own to make sure they're the same, though, since you did not provide pictures of your own.
A home owner from IL says:
April 13, 2022
I need a replacement mechanism for a casement window as shown in your video
I've included a photo to show the crank window that needs the replacement mechanism. I would like to order the right one if possible. Thank you .
Emily from SWISCO responded:

April 14, 2022

The operators shown in that video are our 39-031 and 39-032 but we can't be certain this is what you have without seeing pictures. You would need to compare the dimensions on their product page to your old assembly to see if they match up.

If you're still unsure, show us a picture of your operator with the window open so that the arms that move the sash are fully visible and we can help ID what you need.
A home owner from Normal IL says:
May 13, 2022
I am responding to a former inquiry that asks that I provide more pictures in order to determine what crank I need
Emily from SWISCO responded:

May 13, 2022
A quick learner from CA says:
September 16, 2023
I need a replacement window crank gear assembly. It turns but the window doesn't open. However, I don't see a part number. The armature that extends to open the window is 8". The window opens out to the Right. Hopefully, this information plus attached pictures give you enough information to identify what is needed to fix the window.
Thanks for the help.
David
Tom from SWISCO responded:

September 19, 2023

Thanks for reaching out to us, David. There won't be a part number printed on your operator. The only way to ID these is to go by its physical design.

Based on these images, you appear to have a Truth brand operator with a centered spline. That's all I can really tell you, though. The bad news is that there are a ton of different operators that have this same exact base, but all differ in terms of how their arms are configured.

That means that I can only make a recommendation after seeing the entire operator mechanism, preferably removed from the window. Please let me know if you can get that to me and we can work from there.