Simonton windows channal balances
A home owner from San Ramon says:
August 6, 2012
Hi,
Please help me to identify my broken channel balances. There are only some ink printed characters on the metal that reads "29 9 38# KO CALDWELL". There is no other identification on the channel balance.
Enclosed please find the top and bottom brackets.
THANKS IN ADVANCE.
Tim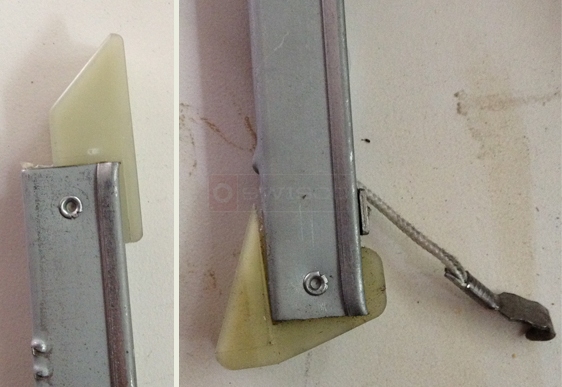 Tom from SWISCO responded:

August 7, 2012

Thanks for posting. Before I can confirm what Series channel balance you have, I'll have to know a bit more information.

First, let's figure out what your bottom shoe is. Please look at the measurements for our

15-001

and

15-002

bottom shoes and note their depths. As you can see, they are 1-1/8" deep and 1" deep, respectively. Which measurement more closely resembles your own shoe?

Please also tell me the length of the metal channel. Do not include the plastic attachments in this measurement.

Finally, I'd like you to confirm the weight of your window sash since your stamp, "29 9," does not correspond to any of our available options. The "38#" makes me think that your sash might be 38 pounds, but I would like you to confirm, just in case. You can determine your sash weight by removing the sash from the window and placing it on a scale.
A home owner from San Ramon says:
August 7, 2012
I did some measurements, it looks like I need a 19-0002 top, and a 15-0001 shoe.

And the metal channel is 30" without the top nor the shoe.

I took the window off and weighted it, it is ~24 lb only. Don't know what the #38 in the marking means.

Does the channel balance come assembled with the top and shoe, or I have to buy the rivet to do it myself?

Thx.
Tom from SWISCO responded:

August 7, 2012

Thanks for getting back to us! Our balances come with the attachments already installed.

With the

15-001

and

19-002

attachments, it appears that you have our

Series 390

channel balance. Please see our S390-30.

For the stamp option, I'd choose our 2940 option. This can carry a sash weight range of 23 through 28 pounds.

Please keep in mind that the weight range information is based on 2 balances per sash. Balances are designed assuming friction in the jamb weather-strip will carry a portion of the sash weight. Suggested sash weights are approximate.
A home owner from San Ramon says:
August 8, 2012
Thanks Tom, what if I still assume the #38 means 38 lbs rating. What option should that be?

And what is the consequences if I choose to use a pair of channel balances with higher rating?

Tim
Tom from SWISCO responded:

August 9, 2012

If the weight of your sash is approximately 24 pounds, then I wouldn't worry about that #38. It is likely just a manufacturing mark at the end of the stamp.

If a balance has too high a rating, then then window would be very hard to open. Like I said, though, the 2940 stamp is perfect for a window sash of 24 pounds.