Spiral balance installation problem
A home owner from Columbia, SC says:
September 15, 2015
Ok i am not Happy here. I followed your video. I attached spiral balance to sides at top of window. With sash out of window. I push balance lower back into top tube with finger. i let it turn freely.Then use load tool to pull down and place into slider. repeated on other side. Did not add to load by turning. I wanted to see if weight of window would need it. Place window in place it held it up. All was good, lowered window, then raise window.
Went to lower window it made a pop sound and fail shut. took window back out and found left side was broken. As seen in pic.. Can i get some help? was this a defect ? if so can i get refund on 1)
S900-35
: 35"
Series 900
Spiral Balance? or was this me.. will be order some sliders today a window and another
S900-35
: 35"
Series 900
Spiral Balance..
As seen in pic the balance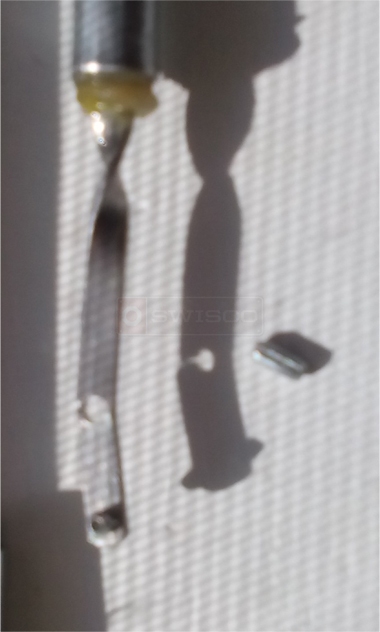 Tom from SWISCO responded:

September 16, 2015

Sorry to hear about the trouble. Before we do anything, can you confirm for me the weight of your sash and the length of your old balance tube? That will help us rule out those possibilities.
A quick learner from colubia says:
September 17, 2015
balances 35" laying old nexts to new they are the same length. As far as weight goes, useing the swisco color match for weight of windows I chose yellow because it was the color with the heaviest weight range. My vinyl single hung lower tilt window are really heavy. Look the swisco wed page is grate it is really hard to get the wrong parts. If you take the time. Every item is very detailed,
the how to videos, how to measure, and close up with scale size. I hope this new info. helps
Tom from SWISCO responded:

September 17, 2015

I think the weight rating here may be the issue. We highly recommend that you only choose the color option that will cover your exact sash weight range. If you have a spring that is too strong, there could be complications. Just because a spring will work for a heavier window doesn't mean it will work for all windows. What is the exact weight of your sash?
A quick learner from columbia says:
September 18, 2015
Okay, Look now, your other color codes weight are way to light. you show the ranges the that they hold. My window while not knowing the exact pounds and onces. The weight is heavier than the two lighter banlances weight ranges.
I work in a job that moves blocks and bag goods all day.
I lift 15 to 80 lbs all day.

My fall in to the yellow weight range.
Color Sash Weight Range
White 7 to 22 lb
Green 14 to 26 lb
Yellow 24 to 34 lb
ok now if you are saying yellow not strong enogh?

Look need help on time here. I am order anther 35" cause the just sent me My second order bent in half..
Just Help..

Paul from SWISCO responded:

September 21, 2015

We want to help, but without more information we won't be able to. Yellow is the absolute strongest spring made for this size balance, so I don't think the problem is that it's too weak. Like Tom described, sometimes a balance being too strong can break, especially if its charged too much. That said we cannot know for sure without knowing the weight of your sash. You can determine this by placing it on a scale. Any common bathroom scale should do.

Once we know the weight of your sash, we can rule out multiple possibilities that could be the cause of your balance breaking. It is one tiny detail that will answer a lot of questions and allow us to move on to the next step. Even if Yellow was the proper tip color, I would rather know for sure just in case. I don't want to send you replacement balances if they're only going to break again. I think we can both agree that will be more of a hassle than simply getting the exact sash weight.