Spiral balance rods out of pivot shoes on all windows?
A home owner from Ohio says:
April 5, 2012
Hi, I finally found a site that may be able to help my window situation. I have vinyl tilt/double-hung windows with the spiral balance and pivot shoes. All of my windows have been broke for some time with the rods from the spiral balance tubes all being popped out of their pivot shoes. So here are some questions I hope you can help me with;
How or why did this happen to (6) sets of windows?
Can a window be opened up too far causing this scenario?
How do I know if all my spiral balances and pivot shoes are good and maybe the rods just popped out and just need tightened with the charger tool and popped back into place?
If I do need replacement pivot shoes, do I really have to either cut my vinyl tracks or purchase a swisco tool that spreads track enough to get the old shoes out and the new ones in? That sounds insane! There's no other way to remove and replace these shoes?
Why does there appear to be (3) slot positions on the pivot shoe where the rod could go? Is the center position of the pivot shoe the only position for the spiral balance rods?
Attaching a pic of one of my pivot shoes and one screw mounting the spiral balance in an difficult position to get back out.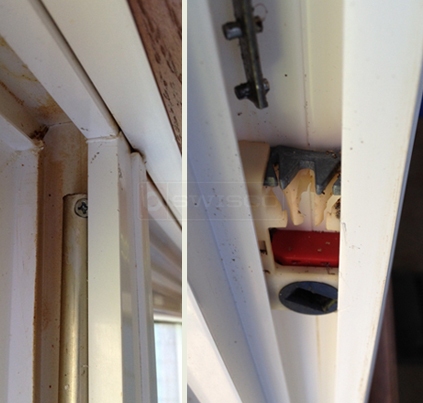 Paul from SWISCO responded:

April 9, 2012

Thanks for posting! I think the problem may be that you aren't putting the spiral balance in the correct slot. There actually aren't three slots, there are only two, both of which are interchangeable. The middle "slot" isn't a slot at all, it's just the gap between the other two. If you are putting your spiral balance in that gap, it would slip out.

Try putting it in either the left or the right slot and seeing if it would work better. If not, let me know and we can work from there!
A home owner says:
April 9, 2012
Thanks Paul. I wasn't putting them back into the "middle slot" as I have no tool to re-tension/tighten them (which I'll purchase from your site - thank you). The only reason I say the middle position is because a couple of smaller windows I have that seem to work, have the rods connected to that middle position. I haven't done anything with the windows yet but maybe they were installed wrong by the original contractor? I will try tightening and reinserting the rods into one of those other slots. Thanks again
Paul from SWISCO responded:

April 10, 2012

That could be a possibility, yes. Let me know how it works out, I'm interested to see if that was the solution after all! If not, I would be more than happy to help you get to the bottom of this.