Spiral balance shoe?
A home owner says:
April 30, 2018
This window has no shoes on it now. It is a 3/8" non-tilt Spiral Balance, with two holes at the bottom, 1/2" apart. The window frame channel is about 1" wide.and about .65" between the frame and the sash. I can't visualize how the shoe fits on the window. There is a hole now on the bottom of the sash about .4" from the end of the sash, as in the photo. The tube is 23" long, and has a red tip.

Can you help me with which balance and shoe to get? Thank you.
Dave Sr. from SWISCO responded:

May 2, 2018

Hi there- thanks for posting!

We will need to see the shoe removed from the window to be able to determine what replacement will be best for you.
A quick learner from FL says:
May 2, 2018
My problem is I have no shoes. I am asking for your best guess. I can buy a few different shoes and see what fits, if you can help





Paul from SWISCO responded:

May 7, 2018

Thank you for getting back to us. Hopefully I can help. Since you're in Florida, I believe you have an old Air Control window which used our 3/8" diameter Series 300 spiral balance. Balances in your area were popularly used with our 15-011 shoe attached to the spiral. Look these over and see if these look familiar.

You first need to remove both spiral balances from the window frame to remove the sash, which can be done by sliding the sash to one side and swinging out the other side. Once it's out you can compare the top guides; you most likely have our 18-005 and bottom sash clips, 17-001 and 17-002 .
A quick learner from Florida says:
May 8, 2018
O.K., sounds good. Yes, the house is in Tampa, Florida, and was built in 1969. The rest of the windows are crank out two or three panel awning windows, which I can't new ones for sale anyplace.
I will order as in my cart. What are the bottom slash clips for? Do you have an exploded diagram of how all these parts of a spiral balance non-tilt window fit together?
Paul from SWISCO responded:

May 8, 2018

I'm afraid we don't have a diagram for this window. These are pretty old so I'm not sure if you'll be able to find much literature on them. As for the sash clips, I believe they're used to connect to the 15-011 shoe I mentioned.
A quick learner from FL says:
May 14, 2018
It is in and done! Thanks for all your help. It took me too long, as things usually do for the first time. I had to fuss with getting the second spiral balance out, but after that the window assembly came out easily. The new parts fit perfectly.
A quick learner says:
May 16, 2018
I just ordered the parts for the other window. I have attached a diagram of the window parts that I just drew. Such a diagram would have helped me doing this for the first time with no idea how these sash parts were put together. The window is working great now, no more stick holding it up. Thanks again for all your help.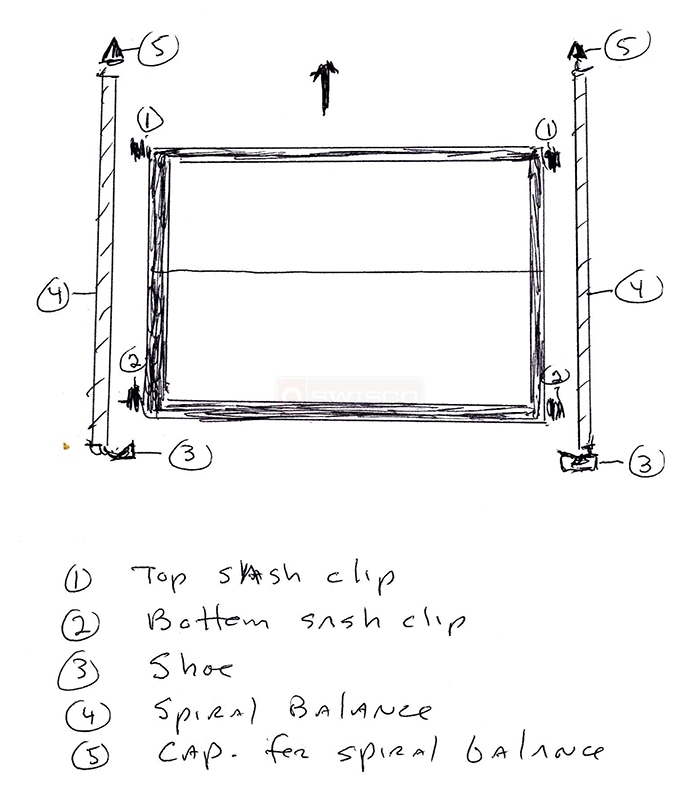 Paul from SWISCO responded:

May 17, 2018

Awesome, thank you! I'm certain this diagram will help other customers in the future. We appreciate you putting this extra effort into it. Thanks again for your business and if you need anything else, we're always here to help.