Storm Door Handle/Lock
A home owner from USA says:
September 28, 2016
middle screw to bottom is 1-3/4 inches , from middle screw to top screw where lock tongue is only approx. 1- 1/2 . Thank you Regards, Ed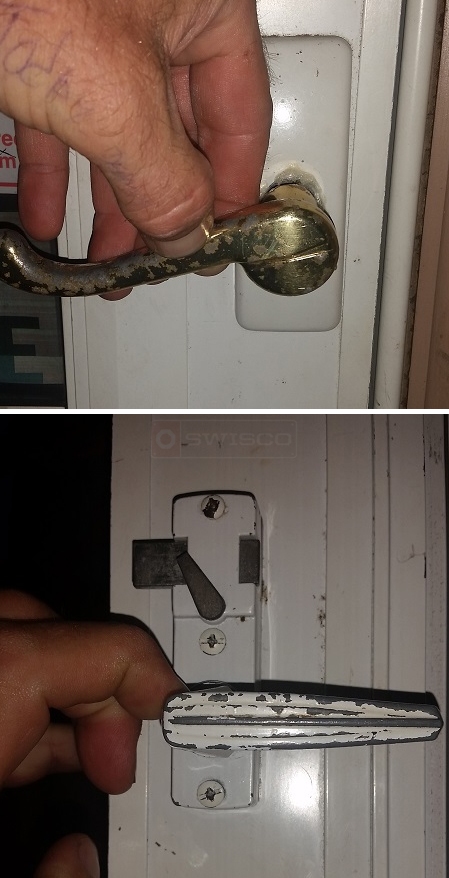 Mike from SWISCO responded:

September 30, 2016

Thank you for reaching out to us. Unfortunately, you have an older storm door lock that is no longer available. May we suggest you take a look at the

40-130

handle? This is a newer version we believe may be a good alternative for you. In addition, we suggest you take a look at a video in relation to the lock. We believe that this may be useful. Get back to us and let us know how everything works out for you.
A home owner from Suburbs of Philadelphia says:
September 30, 2016
I see the
40-130
is 1-3/4 at top with handle and 1-1/2 at bottom with lock . Mine is reversed with measurements upside down with lock at top 1-1/2 and 1-3/4 measurement at bottom . ? Did you think it was reversed when you suggested this option for me ??
Tom from SWISCO responded:

October 3, 2016

I see what you mean, however you should be able to simply flip the inside handle and lock upside down when you install it. Is there anything particular to your door that would prevent that?
A home owner from philadelphia suburbs says:
October 4, 2016
SURELY I COULD BUT THE HOLE MEASUREMENTS . THEN DO NOT MATCH UP THEN .!! I,M A DISABLED PERSON ON LIMITED INCOME TRYING TO FIX IT MYSELF !!! DRILLING NEW HOLES IS NOT AT ALL IDEAL FOR ME AN ABSOLUTE NOVICE . I,VE BEEN ASKING FOR A LOCK WITH THE SAME MEASUREMENTS AND HOLE SPACING AS I INDICATED IN PREVIOUS E MAILS . YOU HAVE NOT PROVIDED THAT FOR ME AS OF YET ! ???????
Tom from SWISCO responded:

October 5, 2016

I'm sorry, I'm confused. I don't see why you will need to redrill new holes at all. Our inside lever has a hole spacing of 1-3/4". So does yours. Flipping the handle upside down won't affect that whatsoever. The inside lever will still have a hole spacing of 1-3/4".

The 1-1/2" measurement you mention is the projection of the deadbolt. It has no relation to the screw holes at all, aside from just using it as a point of reference to help measure the projection. You don't need to worry about that for now.

The only measurement on your handle set I'm not sure about is the overall hole spacing. Ours is 3-7/8", but I'm not sure what that measurement is for you. If yours is also 3-7/8", I see no reason why any holes will need to be redrilled. You're just flipping the handle upside down so that it matches your hole placement.

Maybe this will help. I've flipped the picture of our handle set around to better reflect what I'm talking about. Using this picture as reference, will you need to redrill new holes?