Truth casement operator
A handy person from USA says:
July 29, 2014
Need help locating a Truth Window Casement Operator
Right Hand -Single Arm 13 inches - Width of Operator 5 inches - Operator has three straight across holes on each side with one in back on each side - thin metal slider wheel on end of arm
Numbers on back of operator
2
45352
Thanks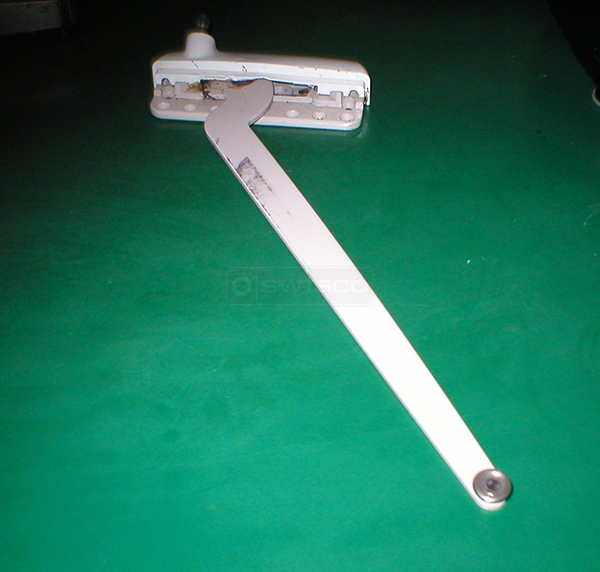 Tom from SWISCO responded:

July 30, 2014
A quick learner from AK says:
November 1, 2021
not even close. bolt holes are completely different.Help
Bob from SWISCO responded:

November 4, 2021

Hello there! We may be able to help find something closer to your operator, but can you show a picture of the entire mechanism, preferably removed from the window? Can you also confirm the straight arm length? We'll do our best to help from there.
A quick learner from AK says:
November 4, 2021
Not sure where to measure but I'd call it 12.5"
Bob from SWISCO responded:

November 4, 2021

See the straight arm dimension of the 39-014 below. It starts in the middle of the center gear to the center of the roller at the arm's end. In any event, if your arms are less than 13-1/2" long you may be better off converting to the 39-027E and 39-028E with 9-1/2" long arms instead. The windows won't open as far, but they may be your best bet.

Additional information for 39-014
A quick learner from AK says:
November 23, 2021
Two things are wrong. straight arm dimension is 12" and the crank mount cover is much smaller on yours. ours also have a smaller steel wheel on the end not thick plastic. Please help.
Tom from SWISCO responded:

November 29, 2021

Thanks for your patience during the holiday season. It took us some digging but we did find a potential replacement for your old operator. In actuality, yours is obsolete, but we're trying to get some stock of the modern replacement that Truth, the manufacturer, is currently making.

We don't have any further information for you yet but I will notify you the very moment it is available in our catalog for you to review. This kind of thing typically takes around 6 weeks, but due to the supply chain issues cropping up all over that may take longer. Just something to keep in mind. Shipments like this are hard to predict these days.

For reference, the new operator will resemble our 39-449 and 39-450 but with that same steel roller at the end, like your original.