Unable to unlock slider door
A quick learner from Belgrade says:
March 13, 2017
We are unable to unlock our slider door. I removed the brass handles on the inside and outside and found your company name - but no part number.Am enclosing pics of the handles as well as on of the door and frame with the silver box which contains the piece the lock hooks onto (the frame is on the left, the door and trim on the right, with the trim covering the holes for the handles, etc). Turning the lock apparatus with a screwdriver in the bottom hole (it turns just a little) does not unlock it.
My question - is there any way to get this unlocked? Are we going to have to tear the door frame out? Yikes
Don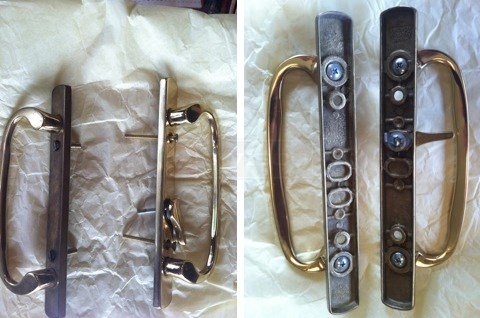 Dave Sr. from SWISCO responded:

March 17, 2017

I don't see the "silver" internal mortise latch you speak of. You said you did put a screw driver in the latch, but could not get it to unlock the door. Try turning the latch again and push the back of the sliding door toward the jamb were the keeper is installed. Maybe by taking off the pressure on the keeper you will be able to unlock the door. Another thought might be to go out side and try using a crow bar or flat bar up under the siding door near the lock to see if you can free up the lock. Take note when using a crow bar under the door use a small piece of wood under the bar so not to damage the track.
A home owner from Belgrade, MT says:
March 18, 2017
The silver box I referred to is in the picture I sent of the door and frame. It is barely visible because the door cannot be opened more than a crack and the box is visible in the small crack only.

I did try the latch turning while pushing the door toward the jamb before I wrote in. Will try to raise the door from outside and see if that helps. Thanks for the suggestions.
A home owner from Belgrade, MT says:
March 30, 2017
Was able to get the latch open by more vigorously and repetitively shoving the door toward the jamb while turning the latch toward the open position. Took the mechanism all out of the door and then to the local business which put the door in. They replaced the mechanism from the door, which I installed. Now all is good!

Thanks for your help.

DB
Tom from SWISCO responded:

March 31, 2017

Great! Glad you got everything working.