Window Parts Help
A home owner from USA says:
October 14, 2016
Hello,
I am looking for parts for my windows, I believe they are patriot windows but not 100% sure. I have also attached or included pictures of what the window and parts in question. There is also the window identifier tag which may help you in providing me the parts I need.- I am looking for replacement spiral balances. They measure 28" long, and have a red tip.
- Your website says it should be a 3/8" or 5/8 diameter.
As you see below, my balances measure .556 which is smaller than 5/8 but more than 3/8 option.
Your site says a 5/8 balance will measure 9/16 which is .562"
Can you confirm which I should be using?
Based on your picture on the website it appears to be a S600 series balance.I am looking for weather stripping for the bottom of the window (see pictures below). I dont see a match on your site.
The weather strip is about 34 1/4" long, which I realize they can be just cut to length.
Last question, one of the windows the balance seized up. When we opened the window the balance tried to push through the bottom of the window.
Based on the above window tag is that a serviceable item or requires a glass company or window replacement?
Here are some pictures

Tom from SWISCO responded:

October 18, 2016

I agree, I think you should be okay with our

Series 600

spiral balance. I'm not sure about the seal. You would need to compare the profile shape and size to those we carry. You can see our selection

here

.

I'm not sure what you mean when you say the balance seized up. Can you go into more detail? If the issue was with the balance, then replacing it should fix things. I don't think you'd have to get the window serviced.
A quick learner from Vineland, NJ says:
October 19, 2016
Balance seize - I inserted a picture here to show you. IT seized up and opening the window was tough, it pushed through the bottom of the window itself. hopefully this picture helps.. I was trying to see if this is a serviceable item or what my options are.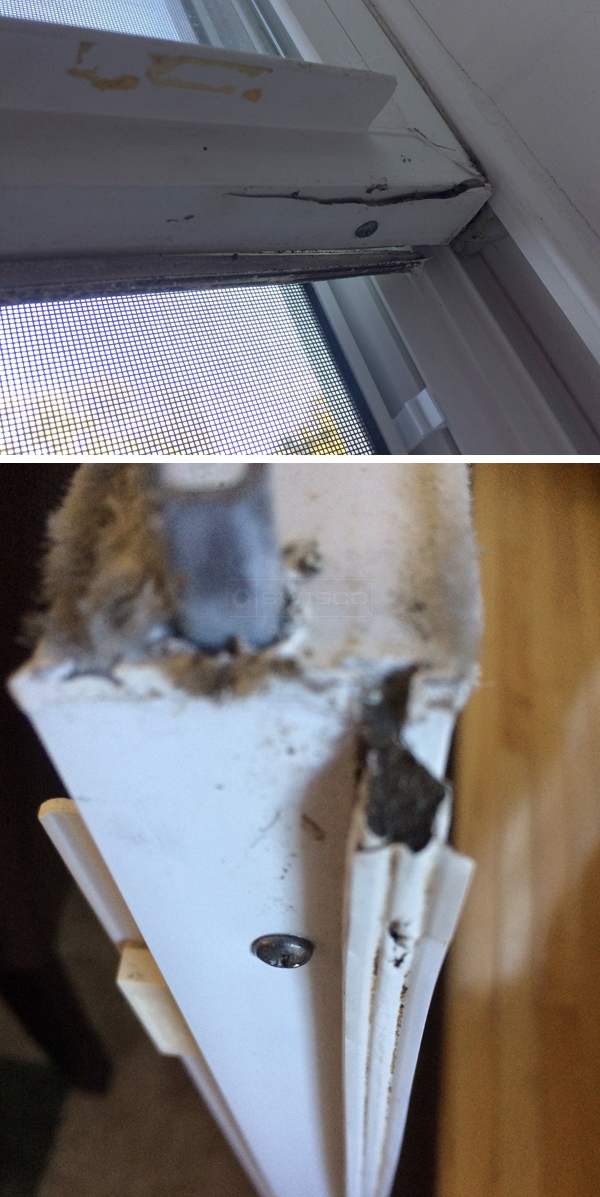 Tom from SWISCO responded:

October 21, 2016

Ah, I see. I'm afraid that kind of damage to your sash frame cannot be repaired. You may need an entirely new sash. I highly recommend contacting the original window manufacturer.

I'm still having a hard time making out the seal, but it looks like it slides into a "T" slot. If so, can you give me the size of the slot?
A quick learner from Vineland, NJ says:
October 31, 2016
Hello,

yes the weather seal slides into a T Slot, size of the slot is 3/16". I also posted additional pics here of the weather seal. Also the link you provided me before for seals was invalid.
Tom from SWISCO responded:

November 2, 2016