Window Will Not Stay Up
A home owner from North plainfield NJ says:
April 12, 2015
Hi...I found your website and it was a huge relief!!!!! I have some older (I think) windows. They are tilt windows and were in when I bought the house. Some of the parts on some of the windows have broken. One problem on a few of the windows is the bottom window will not stay up. After researching your website I am not sure if my spiral balance is worn out or just needs to be tightend for the window to stay up. If it needs to be replaced it wasn't sure which spiral balance series it was. I measured the diameter and it's the 1 3/4 (the smaller one) and I think I measured the height (27 in) but I measured the height while the balance was still in the window so I'm not sure if it was accurate.
I'm looking for advice on repairing these windows. Getting the window to stay up.
I attached a picture of the bottom window titled and where the bottom of the spiral balance is. I hope I did it ok!!!!
Thanks so much for your help. I wanted to ask before I ordered the parts so I could be sure. Having the ability to do so is great!!!!! Not many companies do that!!!!!!
Thanks so much for your help
Stephen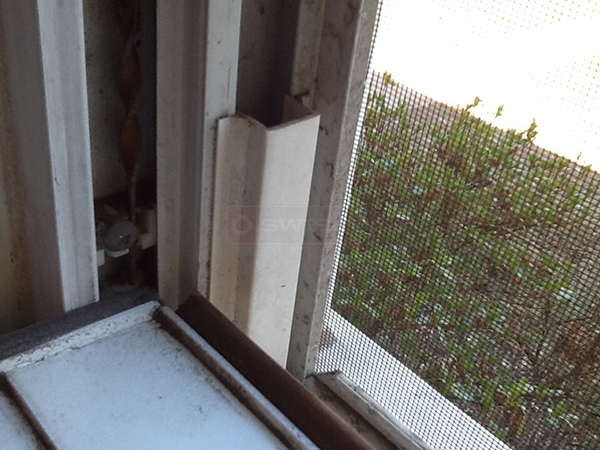 Paul from SWISCO responded:

April 14, 2015

Hello, Stephen! I'm sure we can help with this project. Before replacing your balances, it's always a good idea to try charging them first. If it works, great. If not, you know you need to replace them. Check out this guide for tips on what you can do.

Series 900

or

Series 600

spiral balances. You say the diameter is 1-3/4", though, which has me a little confused. The

Series 900

tube has a diameter of 3/8" and the

Series 600

tube has a diameter of 5/8" (Well, technically it's 9/16" but it's considered 5/8" in the trade). Can you confirm which of these is correct?

As for length, this is determined by just measuring the tube. You may be able to do this while it's still installed but removing it always helps.
A home owner from North plainfield NJ says:
April 26, 2015
Paul and Swisco Experts......
I sent a post earlier about my potential spiral balance replacement...... First thank you SO much for responding with such GREAT information!!!!!!! I have learned SO much from the response from Paul the expert and from researching your website and putting the information into practical us!!!!!!
I purchased the spiral balance tighten tool from your site and attempted to tighten my existing spiral balances with no luck!!!!! I figured so as my windows are a bit older, but as I'm learning, are fixable!!!!
I am pretty sure I need new spiral balances. In my first I mistakenly stated the wrong measurement. Not to sound too silly here I attached a picture of my tape measurement to ensure or double check that the spiral balances I need are Series 600, the 5/8 diameter. That's my first picture.
My second picture is of one of my existing pivot points (I think it's called)....they were pretty dirty and older but I wasn't sure if I needed to replace them so I figured I would send a picture for an opinion.
My third picture is of the latch for my top window. I have many of these type of windows in my house and most of the latches have broken. I was looking around your website and saw a latch that is a replacement latch but surfaced on top. I watched the video but wasn't sure if I could use this type of latch on my top window that pushes up into window sill. Just wasn't sure if the window would close with latch surfaced on top.
I apologize for the long post!!!!!! But thank you for your GREAT website and company.
Thank you
Stephen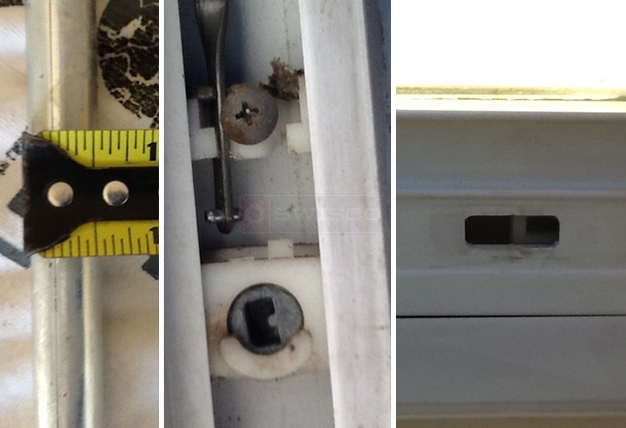 Paul from SWISCO responded:

April 27, 2015

Hey, Stephen. I'm so glad we've been able to help! I'm confident we can get this all squared for you.

First of all, yes: the diameter of your balance tube appears to match our Series 600. As for the shoe, it appears to be undamaged so you should be able to reuse it. In the case that you cannot, though, I would recommend our

15-046

. Just make sure the dimensions match, specifically the width (1-1/4") and thickness (1/2").

I'm not so sure about your tilt latch. You have kind of a weird setup. Most tilt latches go at the top of the window sash but it looks like yours is on the bottom face. Can you confirm? Do you have an undamaged one that we can look at?