Window balance and sash channel guide
A quick learner from USA says:
August 11, 2017
I need to replace my window balance and sash channel guide. I think I found the correct balance part, but I would like to verify.
The part is 1/2 inch, which I identified as
S350-31
. The marking on the part indicate 3030 (see pictures).
Also attached are pictures of the sash channel guide, which I'm have great difficulty finding the correct part. It ma be an
18-115
, but it's hard to tell. See pictures.
Lastly, the take out clips are missing. I'm assuming part number
16-002
should work.
Your input and guidance is appreciated.
Thanks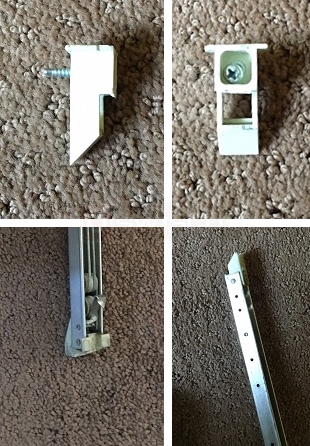 Tom from SWISCO responded:

August 15, 2017

Thanks for posting. For the balance, as long as the top matches the

19-002

and the bottom matches the

15-004

, you should be okay with the

S350-31

. I'm not sure about the top sash guide, though. At the end of the day, it comes down to size. You will need to carefully compare your measurements to ours to confirm what will work.
A quick learner from California says:
August 15, 2017
Thanks, but I may need some additional help with the sash guide part. The general dementions are similar, but the lower body is only 1/2 inch wide. It will fit into to window side (approx. 5/8), but the original part sits to one side and I'm afraid it will no line up with the screw hole. Any suggested parts that may be a good match? Thanks.
Paul from SWISCO responded:

August 21, 2017

I will need to know its exact dimensions before I can recommend something. I would go through each measurement we show for our

18-166

and check the same measurement on your own top sash guide. If you can tell me what they are, we will do our best to find something. They need to be as exact as possible.
A quick learner from California says:
August 26, 2017
Sorry for the slow response. I was traveling this week. A summary of the measurements of the Sash Guide are outlined below. You also reference an 18-155, but your web site does not indicate this number. Am I missing something. Measurements descriptions are as follows:
Top - 9/16 Deep x 13/16 Wide (front to back of window. 12/16 is the actual width of the window frame and this measurement will probably also work)
Body Area - 1/2" wide and 1 3/8" long from the base of the top or approx. 17/16 overall length (top to bottom). Top section includes the screw hole in the upper section.
The body top section is approx. 1/2" x 1/2" square in depth, and bottom section is approx. 3/8 deep.
The
18-115
is similar, but the body width is larger measuring 5/8 and the screw hole will probably not line up with the frame.
I hope that helps. Your earliest assistance and feedback is appreciated. Thanks
Paul from SWISCO responded:

August 30, 2017

Sorry, that was a typo! I meant the 18-166.

I'm afraid I couldn't find anything matching your exact specifications. The

18-166

remains the closest match we have at this time.