balance springs need repair
A quick learner from largo, florida says:
October 24, 2013
House was built in 1988, came with French non-tilting windows. A couple windows have balance springs (not workinig) that are fully extended (see picture)--of course this does not allow the window to say open without help of a two-by-four underneath it.
Looking where the take-out clips are normally located, are plastic strips. I've attached a picture of one broken, and one (I believe not broken) plastic strip. All the windows throughoout the house are the same.
I need to remove the bottom window to access (and maybe replace if necessary) the balance springs but (1) have no instructions of how to remove the window from the frame, (2) if take-out clips are actually necessary to get the window out, and (3) what parts I need to identify for a fix. Can you help?
Thank you in advance.
Rick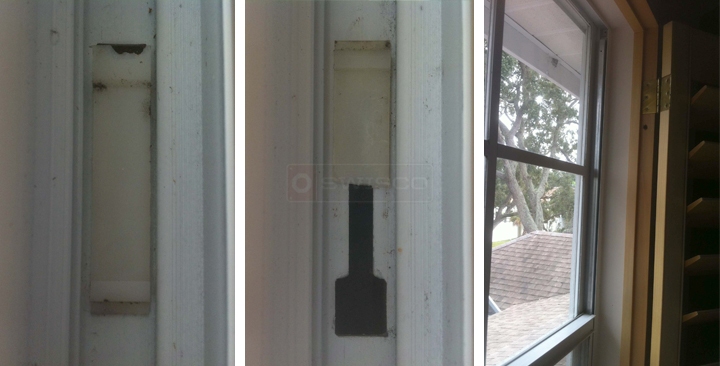 Tom from SWISCO responded:

October 25, 2013

Hey, Rick, thanks for posting. This take out clip looks like it might be similar to our

16-023

. Check it out and see if you agree. If not, you may be able to temporarily use a screw in its place.

To uninstall the sash, just pop both take-out clips out. Then, lift the window. The take-out clips will catch the balances and hold them in place, allowing you to tilt the sash out. From there, you can remove the balances.
A quick learner from Largo says:
October 25, 2013
Thanks for getting back with me. I though the same (similar to 16-203) bit instead found that these are simply plastic covers--and I cannot figure out what their purpose really is. I have 20 windows with the same plastic covers throughout the house and non of they pop out (forward) as a take-out clip for the sash. If an attempt is made to pop these out they simply break/bridle (as to why I sent the second picture with only half of a cover). Do you think this is only a cover for me to remove and install a take-out clip when necessary (have you seen this before?)?

Hope to hear from you back again, soon..... Rick
A quick learner from Largo says:
October 25, 2013
You know, I used the screw suggestion you mentioned earlier and that seemed to work. Meanwhile, I will have to look for replacement clips as the old ones are all dry rotten. They look like the 16-203 but without the two-9/32" lips. Do you have any of these (without the lips?)?
Tom from SWISCO responded:

October 25, 2013

Great! I'm glad you were able to remove the sash. As for the replacement 16-023, I don't think I've ever seen something like this without those lips. Are you sure yours don't have them? I'm not sure how else they would be held in the jamb.