channel balance 21- -30
A home owner from Florida says:
March 16, 2012
22" channel balance for tilt window.. no plastic clip on top (it screws in sideways hiding the spring) and with a wedge end piece to attach to window pivot (hook might fit?). Photos attached showing system. What do you have or suggest? Also, do you have window latch hardware?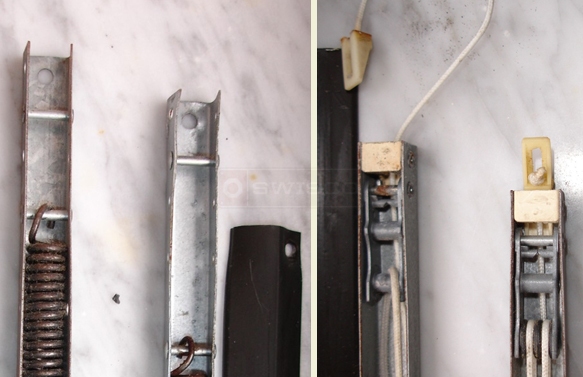 Mike from SWISCO responded:

March 16, 2012

Thanks for submitting your pictures to us.

It does look similar to our

Series 770 Balance

, however we want to confirm the stamps and markings on your current balances.

I noticed in the subject it reads "21--30", are those the stamps? If not, do you see any markings on the channel?
A home owner from Florida says:
March 16, 2012
It says 21-C-30 but some other counter balances in identical windows have slightly different numbers. All are very high tension, enough to break the plastic wedges that attach. Is the 30 the tension or the weight of the window?
Mike from SWISCO responded:

March 19, 2012

Thanks for getting back to us.

In order to accurately identify the correct balance replacements, we will need the exact channel length of each balance and the markings printed on those balances. The markings are very important, as they denote the approximate window sash support weight.

You may also want to confirm the weight of your window sashes by removing the window sash and placing it on a scale.
A quick learner from FL says:
December 16, 2012
Photos above were mine some time ago. I tried a 21-DS-34 and it had way too much lift, window would not stay closed and brake on pivots would not hold. I weighed the removed lower window and it is 16 pounds. I want to get your S770 plain type but I'm thinking B weight and 22" long. Also, why do my old ones say 21-C-30 or 21-D-40 when they are actually 22" long excluding the clips? Thanks in advance.
Tom from SWISCO responded:

December 17, 2012

Thanks for posting! Yes, I would also recommend the 22B stamp, which can carry 10 through 16 pounds. Just make sure you double check the weight of your sash to make sure that it is 16 pounds exactly. If it's over, you may want to consider the 22C option, instead. This can carry 16 through 21 pounds.

I'm not sure why your old stamp was marked 21 when it was 22" long. Usually the first two digits of the stamp for these balances match the length, but I guess it depends on who manufactured it originally.