help removing operator cover
A home owner from Canton ma says:
April 20, 2014
I have what looks like the
39-154
operator covers for my Anderson windows(installed in 1985) I thought removing the 2 screw and handle would allow me to "pop off" the cover. Is it attached to something else?
Thanks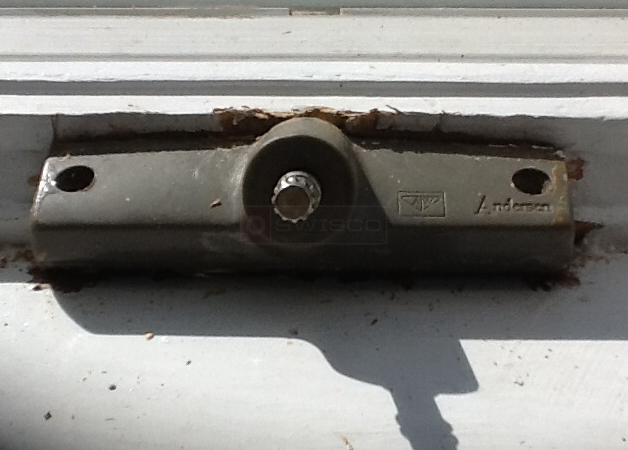 Paul from SWISCO responded:

April 22, 2014

I think age and paint might be holding it in place. Try working it off with a putty knife.
A home owner from Illinois says:
July 28, 2014
I was having problems removing these covers, too (beyond age and paint). After damaging some window trim trying to get them off, I check around the internet and learned something helpful (that I should have noticed myself).

There is a small ridge inside the top of the covers, that fits into a little grove on the mechanism. So trying to pull/pop them off from either side of the top of the cover didn't work very well. For me, the trick was to work on popping them up & off from the top, directly behind the hole area for the crank (to pop that little ridge up and out of the groove). I used a small, 1 inch scraper that was a little flexible. Hope this helps.

A home owner from Cape Cod says:
July 10, 2016
I also checked the internet and learned that Anderson casement cover (7191-33) contains a ridge that must be lifted from a groove in the mechanism for removal. I used a small, blade screw driver inserted on either side of the ridge and gently twisted it until the ridge was out of the groove then pulled the cover away from the window. I filed off the ridge then spray painted the cover and new handle to match and reinstalled.